Mediator - Multimedia Authoring Software
Multimedia Authoring Tool for Creating CDs, HTML and Flash!
Mediator 9 is a premier multimedia authoring tool that allows you to create interactive CD-ROM presentations, dynamic HTML pages and Flash® projects. Recognized for its award-winning icon-based editing, Mediator remains the leading multimedia authoring software for creating highly professional presentations, without requiring any coding or scripting!
Multimedia Authoring in 4 easy steps: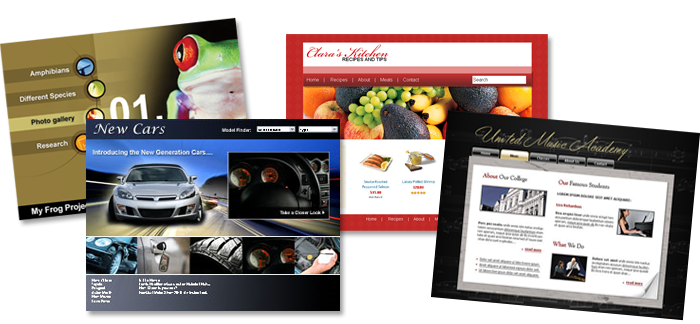 Key features of Mediator 9 Multimedia Authoring Software
Mediator 9 is perfect for creating the following:
CD-ROM presentations
Touch-screen displays (kiosks)
Auto-running tradeshow demos
SCORM-compliant CBT
Dynamic HTML design
Flash projects
Get started right away with Multimedia Authoring
Mediator is a page-oriented multimedia authoring tool. You design your presentation one page at a time and then create links between the pages. Whether you are making a CD-ROM or a website the work in Mediator is done the same way.
Create pages

Start by creating the pages you need in the Page List. You can always add or delete pages. Pages can be outlined and organized in the Page List. When creating new pages templates are available instantly.

Add content

Use the Toolbox to design your pages. Choose the object you want to place on the page (text, image, video, button etc.). Drag a frame for the object on the page to define its size and location.

Mediator offers new styles, new effects and enhanced formatting options. The "live preview" lets you review the effects of various formatting options (such as shadows, glow, soft edges, patterns, textures, gradients, warp and rotation) on objects before committing to them and apply them with a simple click of your mouse.

Galleries of predefined styles that let you create the look you want with a single click of a mouse.

Create interactivity

All the interactivity is created in the Events dialog box. For example, to jump from one page to the next, simply drag and drop the appropriate icons, i.e. Mouse Click and Go to Page. You can play back sound and video, show and hide objects, create hyperlinks, hypertext, transitions and animations the same way.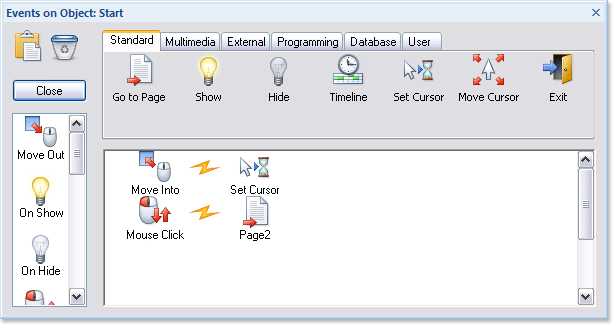 Packed with helpful design features for Multimedia Authoring
Mediator 9's new Office 2007 interface lets you select between a wide range of predefined page layouts. To customize them, simply double-click their text or images to show your own contents. You are also free to add other objects using the tools found in the Insert tab.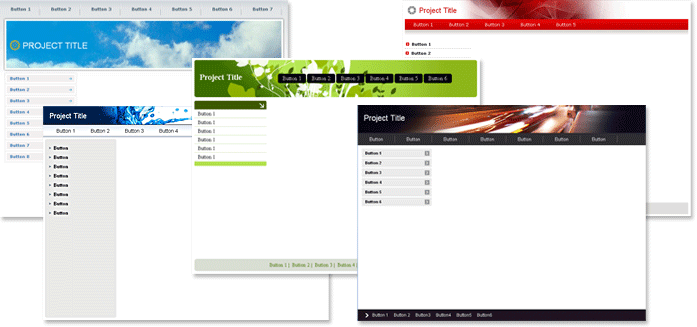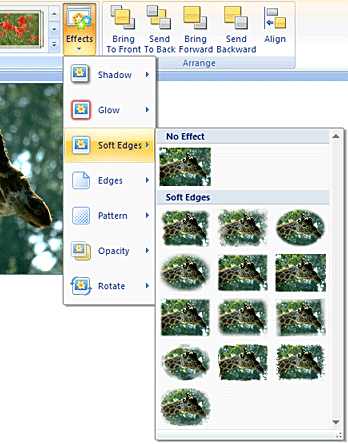 New Interface
The brand new interface brings you galleries of predefined styles, impressive looking buttons, predefined effects on pictures and objects etc. The "live preview" lets you review the effects of various formatting options (such as shadows, glow, soft edges, patterns, textures, gradients, warp and rotation) on objects before committing to them and apply them with a simple click of your mouse. Design features that enable you to create professional looking presentations in minutes!
Multimedia Catalog
A Multimedia Catalog provides you with additional contents such as subject-based illustrations, sound files, pictures, player bars and more. Simply drag and drop them onto the work area. All contents are royalty free and can be used in Mediator projects without any copyright issues (subject to the Mediator 9 End User License Agreement).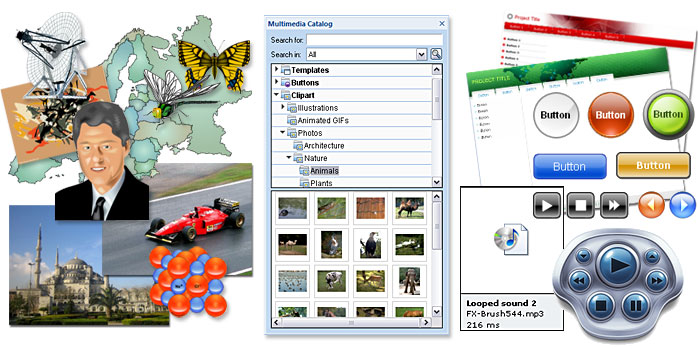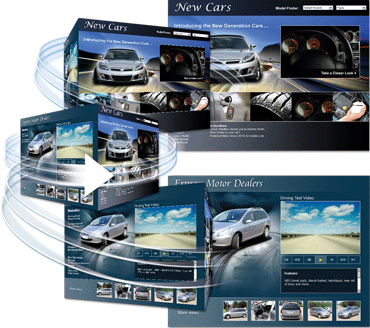 3D Effects
Smooth 3D effects on page turns will impress any viewer of your project and remind them of fancy TV commercial transitions!
"One click" export to CD-ROM, Flash or HTML with Mediator 9 Multimedia Authoring Tool
Mediator lets you export your presentation instantly to CD-ROM, HTML and Flash (.swf files). Your Mediator project can be converted to multiple export formats. All export options, including the Mediator Player, are royalty free.
Trouble-free CD creation
When exporting to CD-ROM, Mediator handles everything. Whereas other software programs require you to gather and organize files before burning your CD, Mediator does this automatically. You can even select to "autorun" the CD.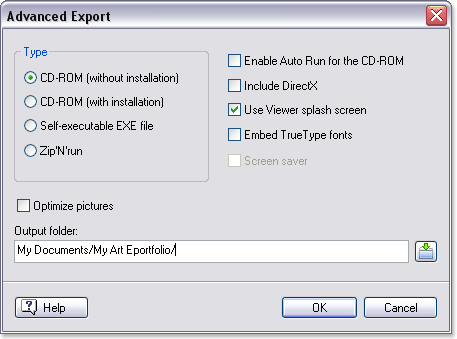 HTML and Flash
When exporting to HTML, Mediator creates all the HTML code necessary to show your presentation in a browser including the animation of objects, hotspots and sound. When creating Flash files no Action scripting is needed. Simply select Flash and your Flash project is ready. You can also package your project as a SCORM course for upload to a SCORM-compliant server.
Advanced multimedia authoring made easy!
What makes Mediator 9 an industry leading multimedia authoring software is its ability to let you create interactivity by combining events with actions. No matter if you are using simple features such as a "page turn" or advanced ones such as programming actions, Mediator makes them easier to use than competing software. After all Mediator has won several awards for its user-friendliness. Here is a sample of Mediator features (click here for complete feature list):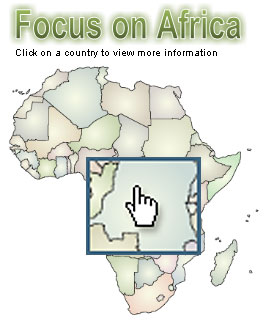 Hotspots and Hypertext
Define areas of a picture as hotspots and make them interactive by hyperlinking to a website or going to another section for further explanation – great to make dynamic maps or explain complex drawings. Define words as hypertext in the same way by making them clickable.
Animations
Animate any object around the screen, even animated GIFs and videos. Make them follow straight, curved, or looped animation paths. Set the "Follow animation path angle" property for more realistic animations!
The Animation Track action gives you total control over the objects position, size, rotation, opacity and speed for perfect synchronization of simultaneous effects.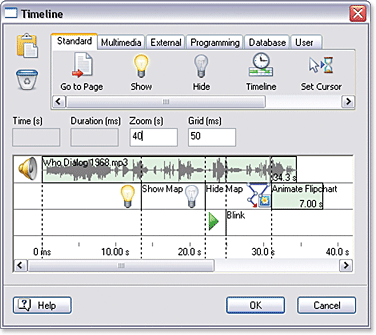 Timelines
Use the Timeline action to execute a sequence of actions automatically. Very useful for self-running demos or renewed activation of your presentation in the absence of viewer action! All your actions can be controlled over a given period of time with up to 1/1000 second precision. The brand new Sound Timeline improves synchronization of sound and actions. Sounds are now represented by a "wave", making it much easier to synchronize all kinds of different actions with the beats or rhythm of the sound.
HTML Code Object
Paste or write HTML code directly into your Mediator page - an easy way to spice up your web design. If you are working on an HTML project, the object can contain any code, including server-side scripting suchas ASP or PHP. The HTML object also contains predefined HTML code samples that you can use as is or adapt for your individual projects.