Education
Create Flash®, HTML and CD-Rom Presentations!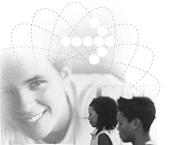 Mediator 9's icon-based editing lets your students drag-and-drop their way to Flash®, HTML and interactive CDs quicker than with any other web or multimedia tool. Combine text, images, sounds and videos. Apply transitions and interactivity - no programming needed! Then simply use the "one click" export to Flash, HTML or CD-Rom. It's easy, fast and fun!
Mediator is perfect for students to create websites or interactive CDs in any subject across the curriculum. Students can manipulate text, sound, image and video files. An ideal way to cover ICT standards.

"Mediator has always been developed with simplicity of use as a basic criterion... After 30 minutes or so it is as simple as it sounds."

Jack Kenny
The Times Educational Supplement
Extensive Multimedia Catalog:
Contemporary and easy to use templates, buttons and navigation bars. Over 1000 high quality illustrations covering every aspect of the curriculum.
Multi-User Mode:
Share the same project on the network and work concurrently on it in multi-user mode. A must have feature for every classroom!
Pre-programmed Wizards:
Make use of the powerful new Wizards to create impressive CBT tests, e-yearbooks, video albums and slideshows in a matter of minutes.
One-click Flash®, HTML and CD-Rom Export:
When you've finished your project Mediator takes care of the distribution for you. Create web and CD files in a couple of clicks.
Built-in Web Upload:
myMediator.com is our free server dedicated to Flash websites made in Mediator. Upload is quick, easy and is done directly in Mediator!
Classroom Workbook:
This useful guide for students and teachers helps you to organize your multimedia and web projects. Comes complete with ideas, tips, tricks, and a CD-Rom full of examples.