MindView - Essential Writing Skills Software
Improve writing skills with Mind Mapping
When conducting research to complete written assignments, students tend to find their information non-sequentially. It is when attempting to organize and present their material in a logical order that many falter. MatchWare's MindView is a Writing Skills software tool that allows students to use Mind Mapping techniques to brainstorm and visualize their ideas, organize their information sequentially, export their Mind Maps to Word to create effective linear outlines, and use those outlines to write clear, articulate texts.
MindView enhances writing skills with these key features:
Brainstorm and visualize ideas and relationships
MindView is an invaluable writing skills software tool that allows students to plan their research, brainstorm their ideas, and visualize their information in 5 interchangeable views: Mind Map, top-down, left/right, outline and timeline.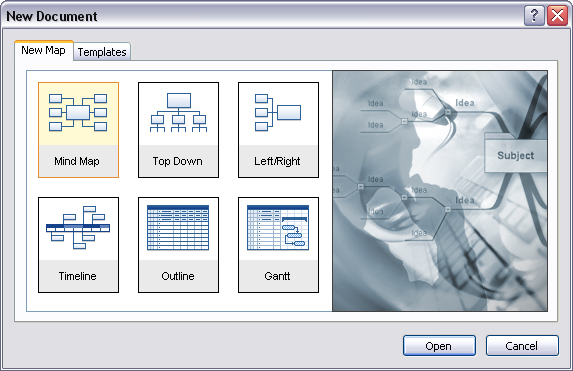 Expand on topics with MindView's writing skills software
By displaying their information graphically, MindView's writing skills software functions enable students to quickly determine which ideas require illustration or elaboration. MindView makes it easy to add notes using the built-in Note Card function, attach relevant files, and add hyperlinks to expand on topics and cite sources.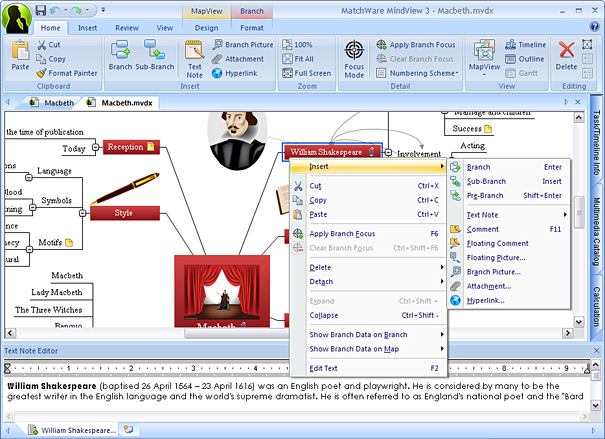 Organize information and create an outline with MindView's writing skills software
The fastest and easiest way to organize information into a well-written text is to create and follow an outline. Writing skills software tools such as MindView create clear, concise outlines with a single click of a mouse. Students simply drag and drop their information into a logical order and MindView instantly exports it to Word as a linear outline that greatly simplifies the production of a well-organized paper.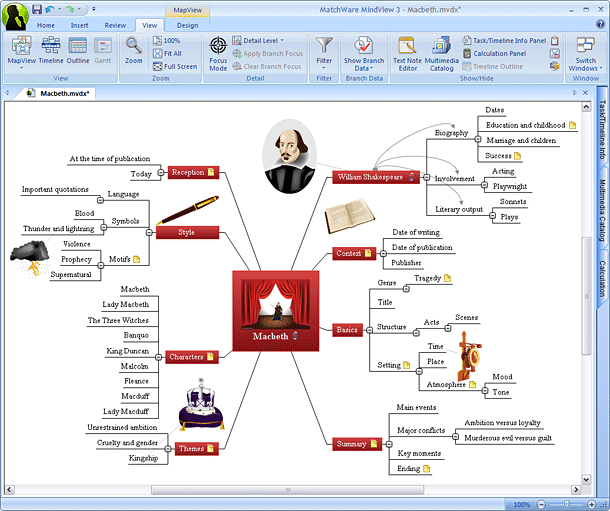 For exporting to Word, MindView provides over 20 templates, including MLA and APA, which can be used as is or customized to meet individual assignment needs.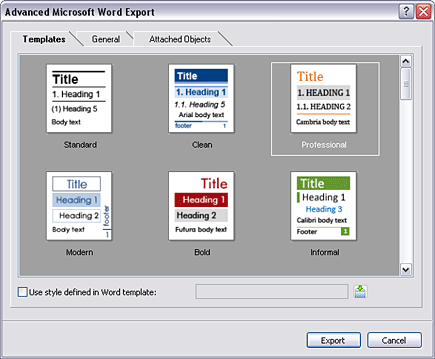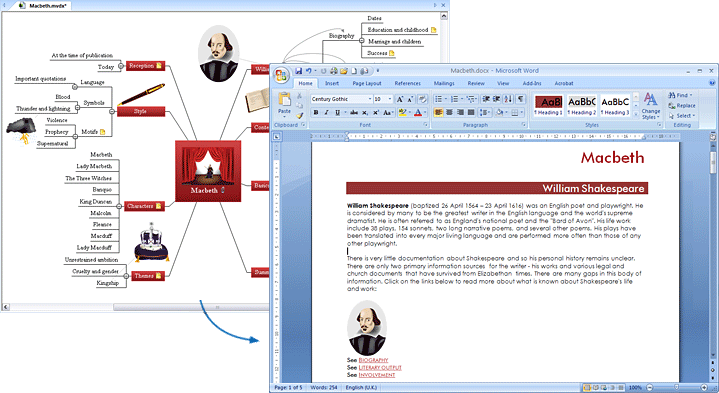 MindView even lets users import and re-import Word files for continued brainstorming throughout their project and reorganize their information by simple drag and drop as they add new material.
Writing skills software improves learning
Studies have shown that graphical organizers like MindView improve reading comprehension, critical thinking and retention, and increase overall student achievement*. Using MindView as a writing skills program is an easy way to take full advantage of these proven benefits.
* The National Reading Panel (NRP), "Teaching Children to Read: An Evidence-Based Assessment of the Scientific Research Literature on Reading and its Implications for Reading Instructions".
The Institute for the Advancement of Research in Education (IARE) at AEL, "A Review of Scientifically Based Research".