MindView - Agenda Software
Prepare and Execute Meetings Effectively with MatchWare's Agenda Software!
Need a more efficient way to run your meetings?
MatchWare MindView is a mind mapping tool that enables you to brainstorm and organize your agenda, take notes and create minutes with a mouse click. This agenda software is a powerful way to increase productivity and collaboration.
Create your agenda in 3 easy steps:
Key Features of MindView Agenda Software
Includes professional templates - or create your own
(Template Files can be opened with the Free Trial Version of MindView)
Brainstorm, organize and create your agenda
MatchWare MindView is based on Mind Mapping and enables you to visualize and organize topics for an agenda. Simply brainstorm the topics you'd like to cover, then organize them by simply dragging and dropping them into the order you choose. With MindView, you can create an agenda and instantly turn it into an interactive map for conducting your business meetings more effectively than ever. Use the professional templates provided or create your own. Either way, MindView is the fastest, most effective way to create agendas that work!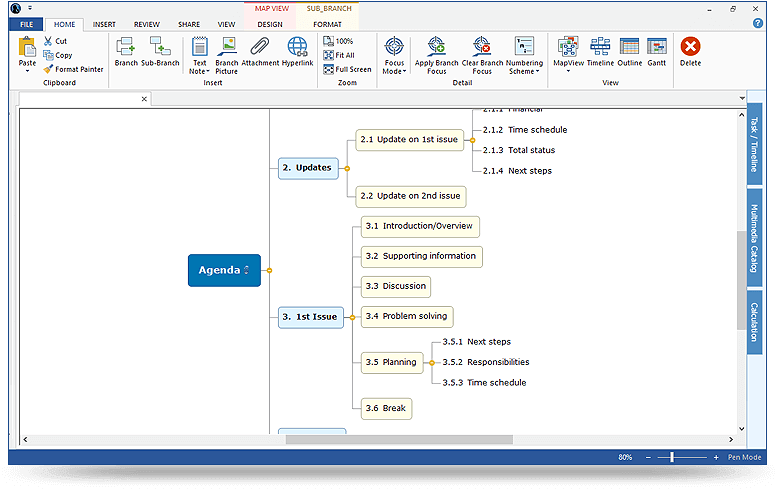 Add notes on each topic and attach relevant files
Maximize the productivity of your meetings by having all the information you need right at your fingertips! MatchWare's user-friendly agenda software allows you to elaborate on each topic of your agenda by inserting notes, citing sources with hyperlinks to websites, and attaching relevant .pdf and Excel files, Word documents, and more.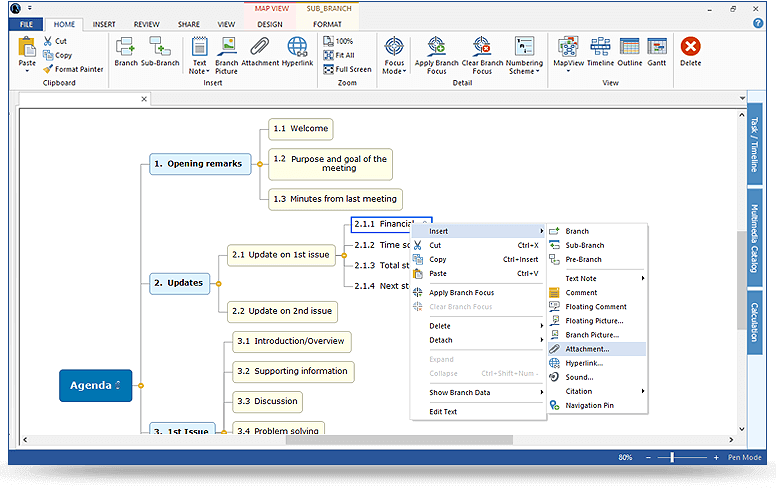 Export to Word and print copies
Once your agenda is finalized, export it to Word and print out hard copies for all participants. The export function produces your agenda as a Word document with a table of contents and all of your notes, hyperlinks and attached files intact. With several easy-to-use professional templates, you'll create agendas that stand out!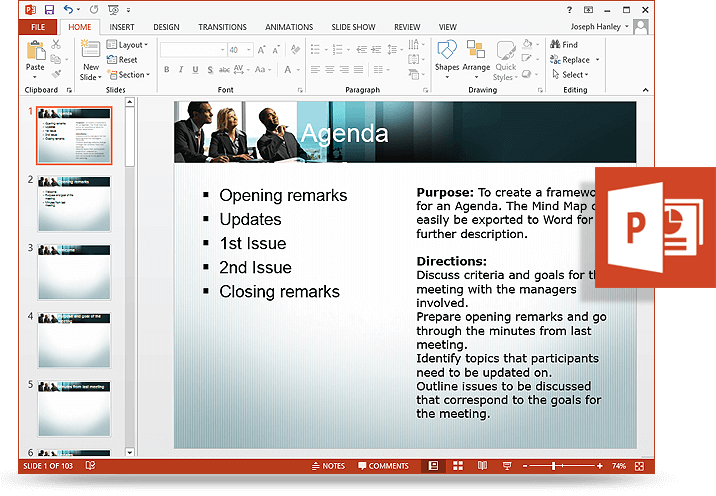 Present your agenda as a PowerPoint presentation
Seamlessly integrated with MS Office, MindView lets you convert your Mind Maps to PowerPoint presentations. This user-friendly agenda software sets up your presentations automatically, so with a simple click of your mouse, you're ready to go!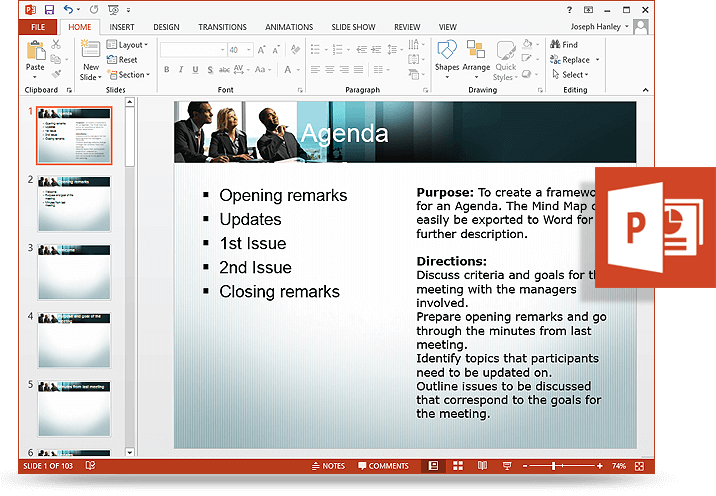 MindView makes collaboration easy!
MindView makes it easy to share your agenda with colleagues and clients using MindView's FREE viewer from the downloads menu.
Lead your meetings and create minutes with ease
Lead your meeting effectively and create an engaging environment for collaboration by:
Distributing a hard copy of your agenda to all participants for review
Showing your interactive agenda using a projector
Going through the interactive agenda using continuous note taking, running and editing attached files, and opening hyperlinks.
Creating minutes by re-exporting the updated agenda to Word
Sending minutes and your updated agenda Mind Map to participants