MindView - Project Management Software
Fast and Effective Project Planning
Kick-Start Your Planning Sessions!
Need a better way to visualize your tasks and work streams? Frustrated by note taking during planning meetings? Looking for a professional Gantt chart tool that is fast and easy to use? Then MatchWare MindView is the ideal project management software tool for you!
MatchWare MindView lets you use mind mapping to help every member of your team fully understand the project, contribute to planning, follow the project timeline and clearly visualize all tasks in an organized manner. It lets you take notes "on-the-fly" for criteria or risk management and allows you to attach relevant files to each task in your Mind Map (Excel® files, technical drawings, etc). Task information such as resources, duration and priorities can also easily be applied directly onto your Mind Map.
MatchWare MindView bridges the gap between Mind Mapping and project planning by integrating a dynamic Gantt chart. This allows you to create most of your project plan in the Mind Map view and then simply switch to the Gantt view for fine-tuning. Your final Gantt chart can then easily be printed or integrated with Microsoft® Project.
MatchWare MindView is fast, efficient, affordable and easy to use! Just follow these 4 easy steps:
Easy-to-use project management software
Key features of MindView Project Management Software:
Brainstorm using Mind Mapping
Increase the productivity of your project management meetings with Mind Mapping!
Faster, easier and more effective than traditional note taking, MatchWare MindView software is the ultimate brainstorming tool. MindView lets you instantly capture your ideas and present them visually as a Mind Map. While brainstorming, you can add any number of branches and sub-branches to your Mind Map to represent different ideas or tasks, enter notes and comments, and even attach relevant files to any branch.
MindView is the ideal tool for presenting hierarchical Work Breakdown Structures (WBS), as it provides different views including Mind Map, Top-Down and a Left/Right view and allows you to switch between these views instantaneously.
Once your brainstorming phase is complete, simply drag and drop the branches of your Mind Map to transform it into the necessary Work Breakdown Structure.
MindView also lets you insert graphics on the Mind Map to illustrate specific concepts: according to the Mind Mapping theory, the inclusion of visual elements significantly clarifies thinking and boosts retention.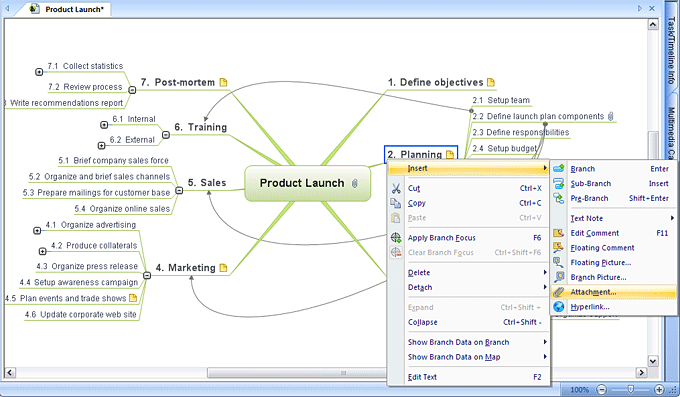 Apply task information
Turn your ideas into action plans!
Apply task information including the following in the intuitive Mind Map interface:
Scheduling information
Resources
Priorities
Completion levels
This information is easily shared, thereby allowing all team members to participate in the planning and execution of your projects and maximizing results.
For further task management, you can easily export your Mind Map to Microsoft® Outlook. You can also import existing task lists from Outlook into MindView and synchronize versions of the same task list stored in both MindView and Outlook to eliminate redundancies.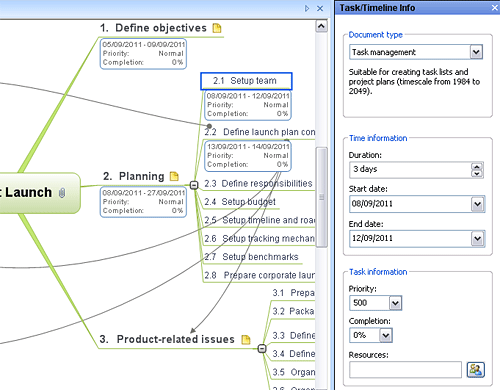 Fine-tune project plans in the built-in Gantt view
Instantly display your Mind Map as a project plan.
Using the MindView built-in Gantt view, you can use the familiar Gantt chart representation while making use of all of the standard project management features.
The MindView Gantt view empowers project managers and anyone involved in project planning to manage their project schedules from start to finish with maximum efficiency. Its user-friendly visual interface lets you define and modify all of the following project scheduling data quickly and easily:
Dependencies
Constraints
Completion values
Duration
Lead/Lag times
Resources
Priorities
Critical path
Deadlines
Milestones
Warning of scheduling conflicts
Once your schedule is established, MindView lets you track the status of your project as it progresses by allowing you to view the entire project timeline, examine the critical path, assign priorities, set completion values, check deadlines and milestones and avoid scheduling conflicts. You can also generate various HTML reports such as a "Project Summary", a "Who Does What", a "Completed Tasks", etc.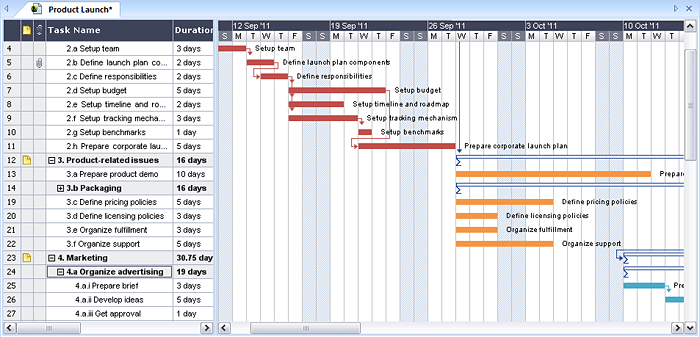 Integrate with Microsoft Project
MindView even lets you export your project plans to Microsoft® Project for further development or to share them with other project managers. You can also import existing project schedules into MindView directly from Microsoft Project or via the Microsoft Project XML format, in order to take full advantage of MindView´s Mind Mapping and brainstorming capabilities.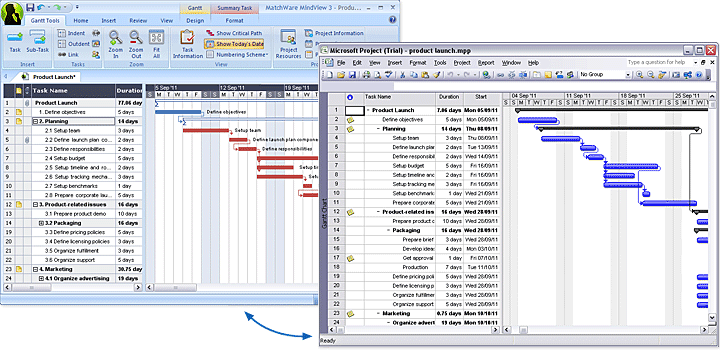 XML import / export
The MindView XML Import feature allows you to convert third-party file formats to the Mind Map format even if you don´t own these third-party software applications. Conversely, the XML Export feature lets you integrate MindView documents with other applications by simply implementing a transformation file.
Present your project plan
In project management, collaboration is key!
MatchWare MindView provides an effective collaboration tool by seamlessly integrating with MS Office, offering innovative views such as the Timeline view, and allowing easy distribution with a free viewer and advanced print functions.
Integration with MS Office
No need to recreate data when you want to hand out planning session notes or immediately pull together PowerPoint presentations. With one click of your mouse, MindView allows you to convert your Mind Map to an outline in Word or to a finalized PowerPoint presentation. MindView comes with professional templates that are customizable and easy to use. You can even import Word and PowerPoint files into MindView when you want to see an overview of your project.
Microsoft PowerPoint
Microsoft Word
Microsoft Outlook (PC version only)
Microsoft Excel (PC version only)
Microsoft Project
FREE MindView Viewer
The MatchWare MindView Viewer enables you to share your MindView project with colleagues or clients who are not MindView users. Anyone can view your project plan in any view within MindView, filter and print it. If you have attached graphics and external files to your project plan, just save it using the "Pack & Go" feature to enable the Viewer to display all these elements. The free viewer can be downloaded at any time from the download menu.
Project Timeline
With a single click of your mouse, switch from the Gantt Chart view back to the Mind Map view or to the Project Timeline view. This lets you present your project plan visually to audiences unfamiliar with Gantt charts. You can also export your Project Timelines to HTML or print them in poster format. Simply specify how many pages your Project Timeline, Gantt chart or Mind Map should use, check the preview and click the Print button.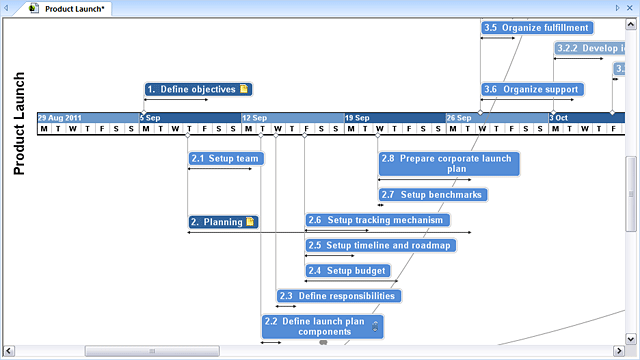 Print
MatchWare MindView's print function allows you to spread your project plan over as many pages as you like and then print it as a large poster. This is an easy and effective way to present your professional Gantt chart at your next meeting!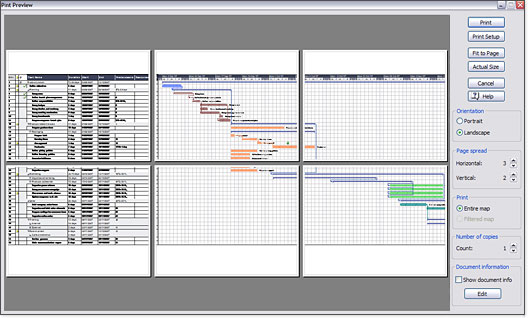 MatchWare MindView is the only project management tool you need.
It offers all the flexibility, speed, power and security a large corporation needs- at a price even a small business can afford!