Record instantly
ScreenCorder 5 award-winning intuitive user interface makes it easy to setup your desktop recording: start the application you want to record, start ScreenCorder, select the recording area and click the Record button ­ it's as simple as that!
You can select the recording area in different ways: choose a specific window, define your own area or record full screen. You can also change the default audio recording settings if needed.
Relevant tutorials:
Intuitive "on-the-fly" editing
What sets ScreenCorder apart from the competition is its "on-the-fly" editing capability which allows you to easily modify or replace the audio track, cut away part of the recording, add new frames, insert speech bubbles etc. without having to leave the preview area. Now you do not have to open your screen recording in an audio or video editing program to change or manipulate the recording.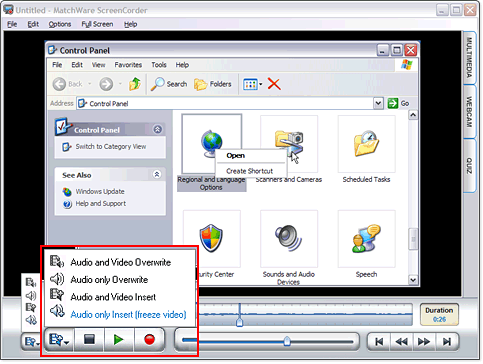 Editing audio and video
Being able to edit the audio track is essential as it prevents you from having to focus on both commentating and using the software you are demonstrating simultaneously. You can simply make the desktop recording and apply speech later. Further, you can delete and redo parts of the recording. ScreenCorder even lets you resize recording areas.
Relevant tutorials: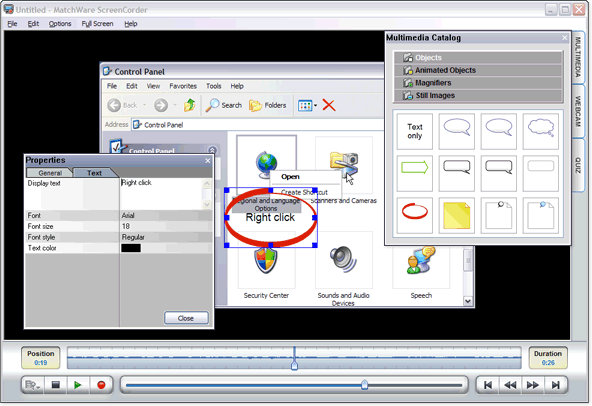 Inserting speech bubbles and graphics
To enhance your demonstration you can add speech bubbles, animated GIFs, or magnifiers to guide viewers in your recording. This is also beneficial in situations where viewers do not have audio available. Inserting such explanatory elements is simply done by dragging and dropping ready-made and customizable objects from the free built-in Multimedia Catalog.
Relevant tutorials: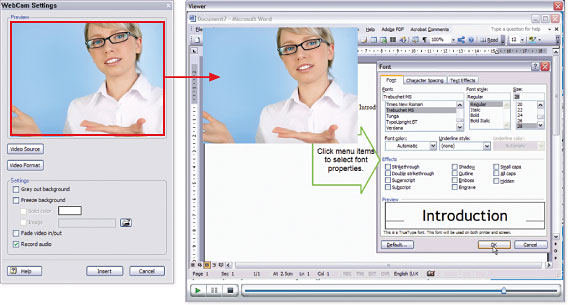 Webcam (Picture-In-Picture)
You can add a more personal touch to your desktop recording by inserting webcam objects (Picture-In-Picture). This is easily done by opening the WebCam panel. ScreenCorder automatically connects to your default webcam and allows you to record a webcam video that you can insert in your screen recording and save for later use. No technical gaps here!
Relevant tutorials:
SCORM Compliant Quizzes
ScreenCorder now lets you create and insert quizzes at key points of your screen recordings so that you can assess the level of understanding of your viewers or obtain their feedback on the material presented in your video. In line with MatchWare's ambition to make this tool useful for non-technical PC users, these quizzes can be setup very simply.
Relevant tutorials:
You can define actions that depend on the answers given by the user, communicate the results to the user via a score card and optionally forward the results to others via e-mail. Further, you can use markers to redirect the user to a different section of the recording depending on your viewer's answers. Desktop recordings containing quizzes must be exported as Flash videos (SWF) and can be uploaded as SCORM 1.2 packages on any SCORM 1.2 compatible LMS server (Learning Management System).
Relevant tutorials:
Share your Recording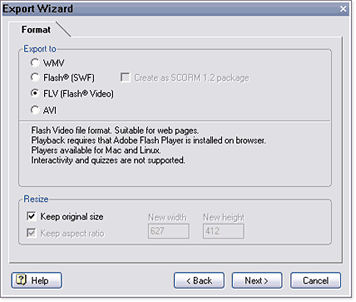 Sharing your video is straightforward as ScreenCorder allows you to export your screen recordings to standard video formats such as WMV, Flash, FLV and AVI. These videos do not require any special codecs to be viewed and can be played back with the Media Player or a standard Flash player. To optimize the exports, Screen Corder offers you different audio and video settings for each video format.
Relevant tutorials: