ScreenCorder - Highlights
Benefits of ScreenCorder:
Create tutorials to answer repetitive support questions effectively
Intuitive editing ­ add comments, pictures and voice over
Combine several recordings into one video file
SCORM-Compliant Quizzes
ScreenCorder lets you insert quizzes at key points of your recording so that you can assess your viewers' understanding of the video material. Quizzes can also be used to provide feedback on the information given in the video. You can choose to display the results at the end of each quiz or on a cumulative score card shown after the last quiz. Once the quiz is created, you can upload it to a SCORM-compliant Learning Management System (LMS). The scores can be sent by e-mail, printed or stored on the LMS server.
Picture-In-Picture
ScreenCorder 5 lets you create webcam recordings "on-the-fly" for insertion into your video. You can save these webcam recordings for use in any ScreenCorder project, and even import other AVI videos into your recordings. Webcam recordings let you introduce and comment your tutorials and presentations, thereby making them more engaging for the viewer.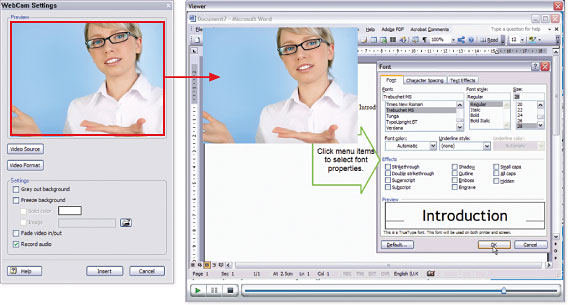 Display Multiple Videos Online
Create your own web presentation environment with the separate Web Builder program included in ScreenCorder 5. The professional web templates available, complete with navigation menu bars and title pages, let you customize your website in minutes. Once ready, upload it quickly and effortlessly using ScreenCorder's built-in FTP Upload Manager to display your videos online.