ScreenCorder - Upgrade Features
Enhanced interface with new visual display and new navigation controls
The ScreenCorder 5 interface has been improved with a new visual display, more recording options and new navigation controls. In addition to the standard menu commands, easily accessible side tabs let you define multimedia, webcam and quiz content for insertion into your recording.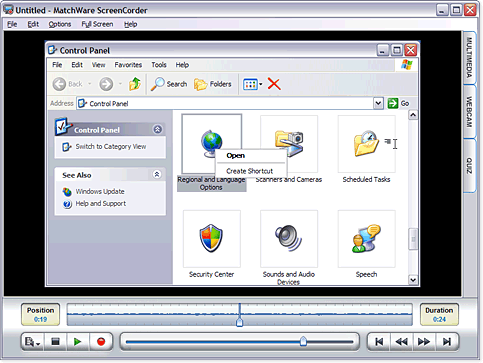 New Multimedia Catalog with a variety of customizable objects
ScreenCorder 5 includes a new Multimedia Catalog with an enhanced interface. It contains a variety of text bubbles, arrows, animated objects and magnifiers which you can customize as you wish by resizing or rotating them, changing their border color, fill color, level of transparency and so on.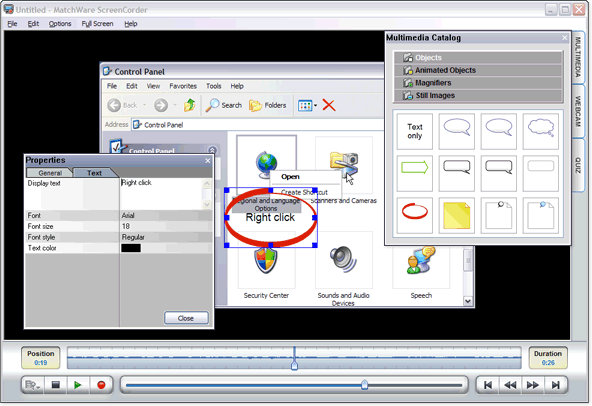 Insert or replace audio and/or video sequences at any point of the recording
ScreenCorder now lets you insert audio and/or video material at any point of the recording. ScreenCorder also lets you extend (freeze) a frame during the editing phase, for instance to ensure that the user has enough time to register its contents. When inserting new material or extending a frame in this way, the audio and video footage following the editing point is merely "moved along" in the recording.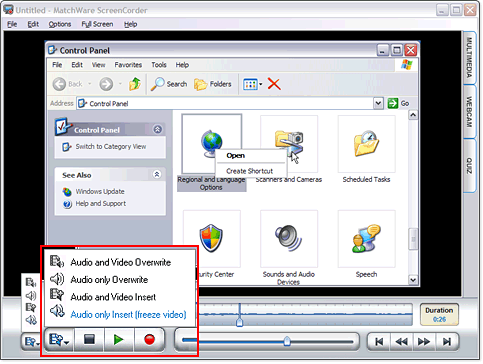 Personalize your recordings by inserting Webcam objects created "on the fly"
During the editing phase, ScreenCorder 5 lets you create one or more webcam recordings for insertion into your video. You can save these webcam recordings for use in different ScreenCorder projects, and even import other AVI videos into your recordings.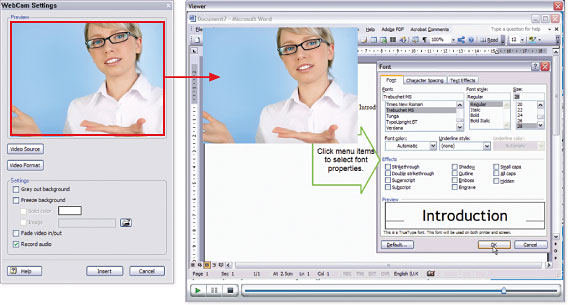 Set markers to identify specific frames, for instance to return to them easily
ScreenCorder 5 allows you to set markers to identify particular frames, during the actual recording or during the editing phase. You can use these markers in different ways, for instance to single out frames on which you want to do further work, isolate a section of the recording which you need to delete, or add interactivity to your recording.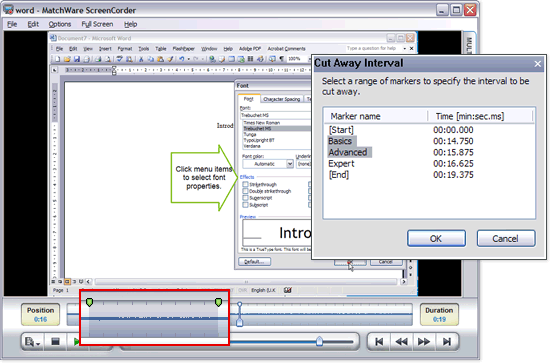 Create navigation menus and perform other actions by making your objects interactive
You can now add interactivity to the objects placed on your recording during the editing phase. This enables you for instance to create navigation menus for your viewers, or let them perform specific actions by clicking particular objects, such as pausing the video, opening a URL, sending an email and so on. This feature is only supported by the Flash® (SWF) video format.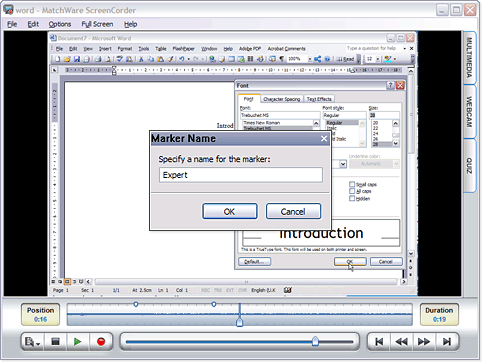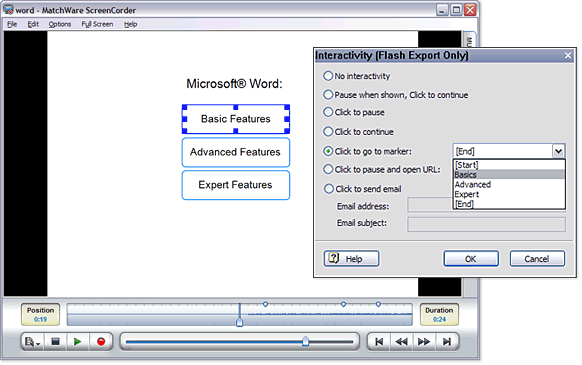 Allows you to create SCORM-compliant quizzes for uploading to an LMS system
ScreenCorder lets you assess your viewers' understanding of your video material by inserting quizzes at key points of the recording. Quizzes can also be used to provide feedback on the information given in the video. You can choose whether the scores should be presented after each quiz or on a cumulative score card displayed at the end of the last quiz. Once the quiz is created, you can upload it to a SCORM-compliant Learning Management System (LMS). The scores can be sent by e-mail, printed or stored on the LMS server. As this feature relies on interactivity, it is only supported by the Flash® (SWF) video format.
Ability to capture and export still snapshots of the recording during editing
You can now capture still snapshots of your screen recording during the editing phase. You can then export all the snapshots selected, either as image files in the folder of your choice, or embedded in a pre-formatted Microsoft Word document.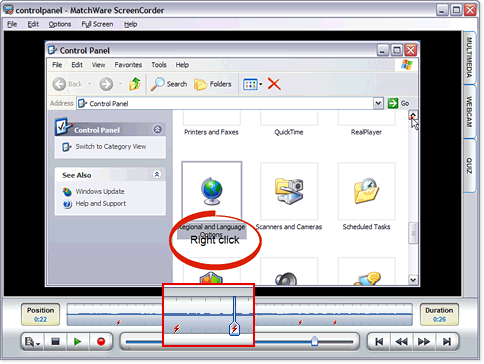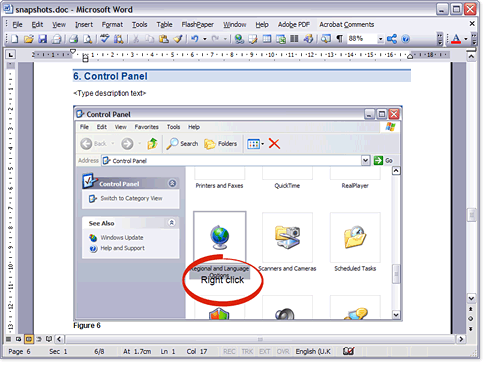 Export to WMV, SWF, FLV and AVI
In addition to the formats available until now, ScreenCorder 5 lets you export your video to the FLV (Flash® Video) format, letting you easily integrate your video as a standalone file into other Flash projects made with the Adobe® Flash authoring environment.