MeetingBooster – Educational Meeting Management Software
Looking for a better way to run your next curriculum or school board meeting? Do you struggle with the increase in meeting frequency due to regulatory changes and requirements? How about the pressure on your staff and additional labor necessary to produce enhanced meeting procedures for creating agendas, meeting minutes and action plans?
Then look no further! Consider running your next meeting with MeetingBooster, a powerful educational meeting management software solution that provides a secure and efficient system for scheduling, executing and archiving meetings.
Run your meeting in 3 easy steps:
Key features of MeetingBooster:
Agenda module and professional templates
Note card and decision making tools
Powerful task management and tracking system
Auto-generation and archiving of minutes
Dashboard and meeting analytics
Integration with MS Outlook and SharePoint
MeetingBooster is perfect for:
Curriculum Meetings
School Board and Consortium Meetings
Change Advisory Board meetings
Quality Enhancement Plan (QEP) Meetings
School Improvement Meetings
Professional Development Meetings
Status Meetings
Work Type Meetings
One-on-one Meetings
Enrollment Meetings
Accreditation Meetings
Leadership Building Meetings
Schedule your meeting and create the agenda
MeetingBooster is fully integrated with MS Outlook, allowing users to schedule a meeting just as they would a normal Outlook meeting. Advanced features like the Conflict Resolver and Active Directory Synch help you invite the right attendees at the most appropriate time. Not using Outlook? No problem, the MS Office style web interface makes it easy to schedule meetings online.

MeetingBooster's Agenda module helps you create professional agendas including topics, times, descriptions, presenters and the ability to attach supporting files to be discussed during the meeting. If you are looking to streamline the Agenda process, use one of the professional templates or create your own. Making an Agenda as never been easier!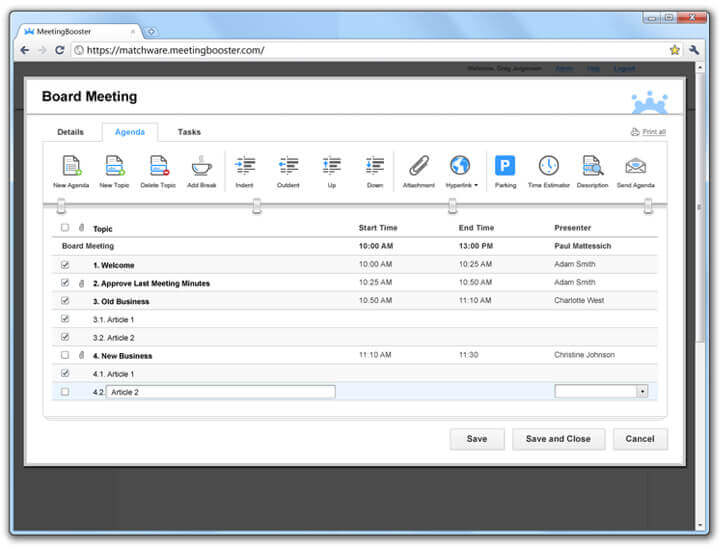 Create your next Meeting Agenda with MeetingBooster!
Execute the meeting, take notes and assign tasks
MeetingBooster's meeting tools allow you to capture discussions on the fly, easily noting who said what, all while following a pre-made agenda. Add conclusion statements or use decision making tools like Vote or Pro/Con to ensure that discussions are thought through and documented. Take minutes like never before!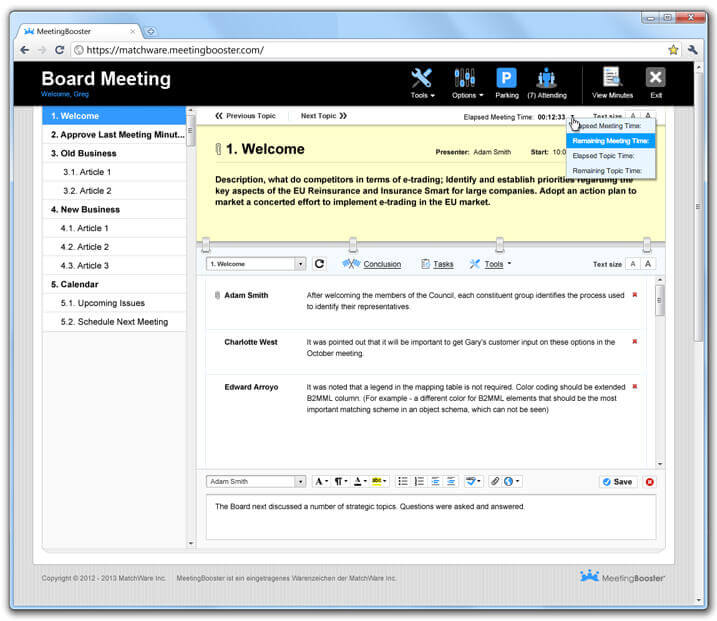 Often times, meetings result in a plan of action. Assigning, distributing and tracking tasks is as important as the meeting minutes themselves. MeetingBooster's integrated task management system lets you assign tasks during the meeting, ensuring that nothing gets lost in the shuffle. Tasks are automatically distributed to assignees and are archived in the secure web portal where assignees can quickly update tasks status. MeetingBooster's Outlook integration also provides a seamless synchronization between the MeetingBooster and Outlook task lists, allowing for a more robust method of monitoring task updates.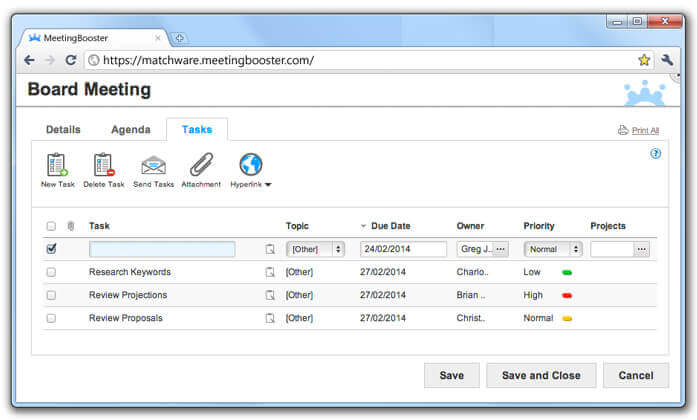 Stop wasting time, take minutes with MeetingBooster!
Generate, distribute and archive meeting minutes
Organizing, formatting and distributing meeting minutes is very time consuming and often proves to be the most difficult part of the meeting process. With MeetingBooster, the hard work is done automatically! Users can select from professional meeting minutes layouts and with one-click can generate and distribute a professional meeting minutes' document.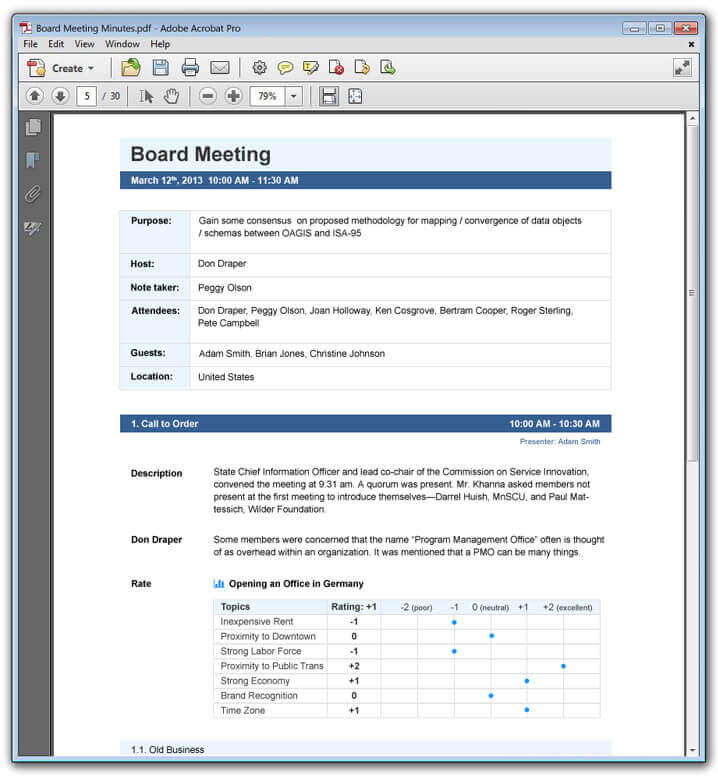 Built on a configurable permission system using bank level security, MeetingBooster automatically archives the minutes for later access by authorized personnel. With enhanced search functionality and the ability to group meetings into different meeting series, MeetingBooster makes it easy to find past meeting information when you need it most.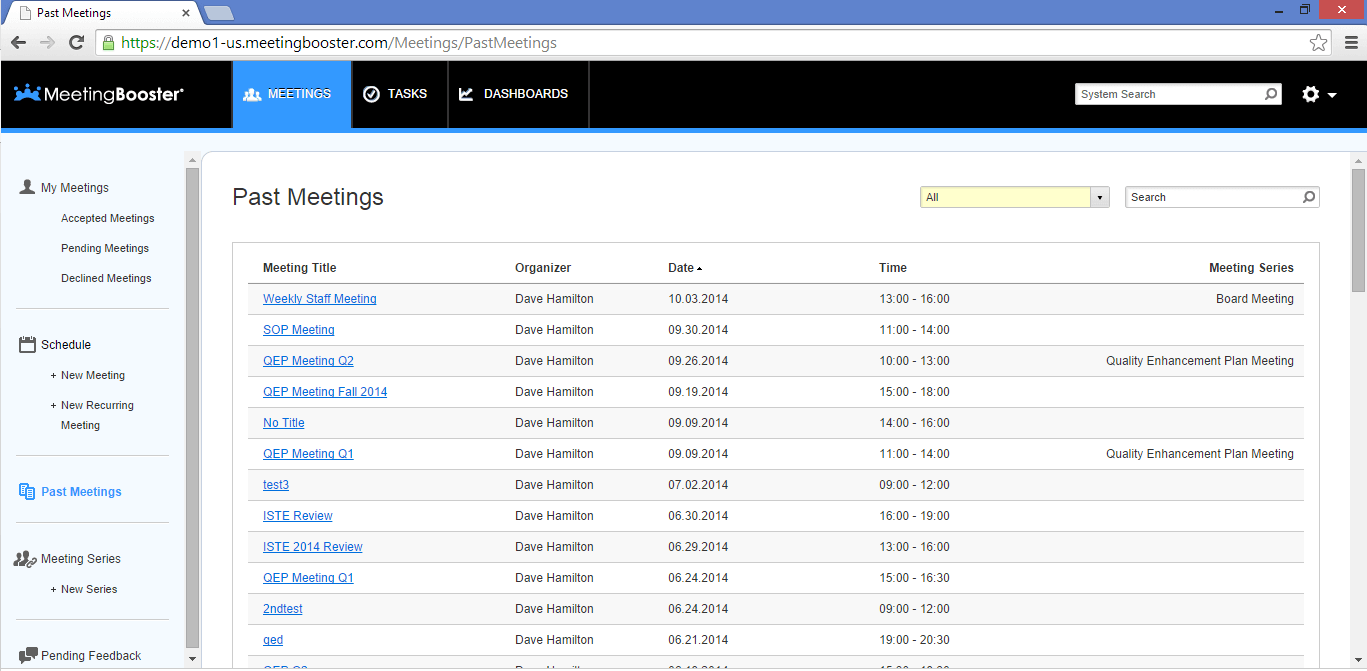 MeetingBooster is the most powerful meeting management software available. Don't run your next meeting without it!