MindView – Assistive Technology (AT) Software
Mind Mapping Assistive Technology Software
MindView Assistive Technology (AT) software enhances student's ability to visualize, organize and present information. MindView AT sets a new standards for ease-of-use and productivity in the classroom and workplace. MatchWare's involvement in the Assistive Technology market demonstrates a dedication to provide students and professionals affected by reading, writing and learning difficulties with easy-to-use, professional software applications.
MindView AT helps students and professionals:
Improve reading comprehension
Facilitate research and writing
Improve test taking study skills
Visualize, organize and present information
Encourage inclusion and collaboration
Why MindView Assistive Technology Software
Mind Mapping plays an important role in the development of students and professionals with learning difficulties. Mind maps have a natural structure that radiates from the center and uses lines, symbols, words, colors and images. Mind mapping turns monotonous information into colorful, memorable and highly organized diagrams that work in line with your brain's natural way of thinking and working. MindView allows for visual graphics, color coordination, reorganization of ideas, and interactive elements such as text documents, website links, videos files and sound files to be included into Mind Maps.
Simplified Interface
MindView AT comes with a simplified user interface showing only the most commonly used commands and features such as inserting branches and attachments, viewing the numbering scheme and exporting to MS Office. This provides a less distracting interface, while allowing users to benefit from the most widely used features in MindView.

Dedicated Training Videos
MindView AT's Quick Start panel provides direct links to dedicated training videos designed to improve users understating of the most important MindView AT features. Users can quickly access videos covering topics such as building the map, exporting to MS Word or PowerPoint, creating references and citations and even time management.
MindView AT Templates
Users working with MindView AT's training videos can also download the specific MindView templates which are used in the training videos. This allows for rapid understanding of concepts discussed in the videos and a hands-on learning experience to ensure proper implementation, use and understanding of MindView AT.
High Contrast Mode
MindView AT supports the standard High Contrast mode included in Windows and provides new map styles designed specifically to work in that mode. This assists users in identifying important areas of the interface, while minimizing distracting colors, gradients, and more. This further improves the usability of MindView.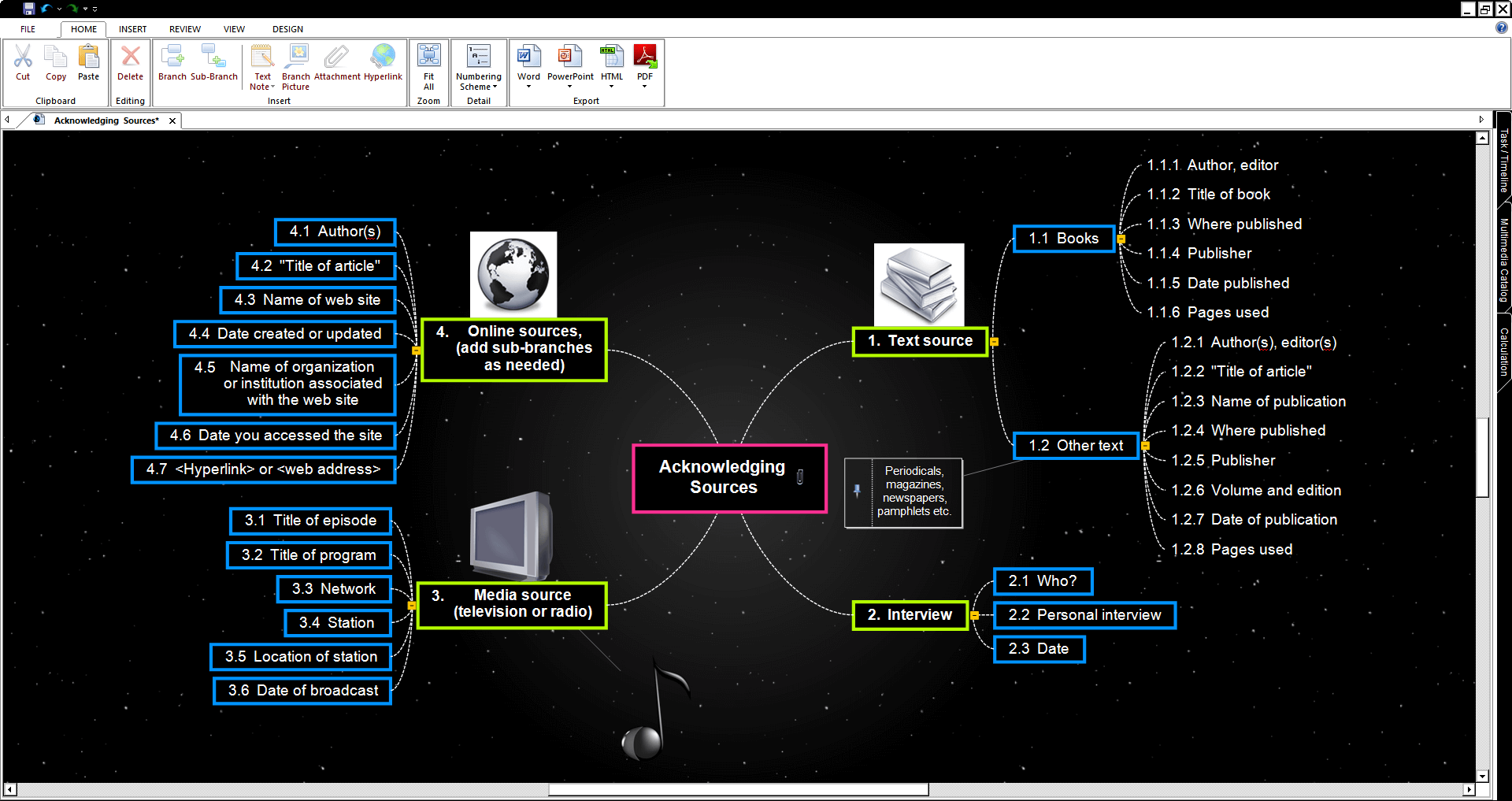 Narrate Selected Text
The ability to have branch text read aloud is a powerful new addition to MindView AT. Whether you are a special needs user or presenting a map in a group setting, the Narrate feature allows you to select a specific branch, text note or comment in the mind map and have MindView read the information aloud.

Integration with Texthelp Read & Write
MindView AT is fully integrated with Read&Write 9 GOLD, Texthelp's award-winning assistive software for improving reading and writing skills. Using the two packages together can allow students and professionals to further enhance their learning by using the dictionary, text to speech and screen masking functions.
As users type onto their mind map, Read&Write Gold will read their work back to them. The spell checker will not only correct any mistakes by giving dictionary definitions, but users can also benefit from the spelling log which will track patterns in their spelling over time. The ability to output to a sound file allows users to create an audio file of their notes which can be attached to the mind map enhancing understanding and file management.
Integration with Dragon Naturally Speaking
MindView AT has partnered with Nuance's Dragon Naturally Speaking, the world's best-selling speech recognition software. Users can control MindView with simple voice commands for creating and editing branches, navigating the mind map and more.
Task Management Mode
MindView AT sets the MindView document type to Task Management by default. This is designed to assist users in easily creating visual action plans and help those who struggle with managing their time effectively. With a few clicks, users can add due dates and priorities as well as completion levels and person(s) responsible for completing tasks. Combining these features with the organic visual mind map, users are able to overview complex information, or projects while maintaining a simplified visual diagram.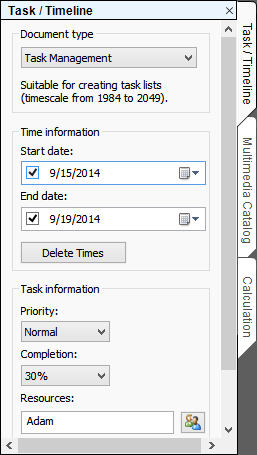 Simplified Citation System
MatchWare has streamlined and simplified the popular Citation features in MindView AT. Citations are now included without any field locks, which makes citations update automatically in Word when bibliography styles are changed. This means that users working with the Citation feature in MindView will have better experience when exporting to MS Word for creating research and citation documents such as research papers, book reports and more.