What is Concept Mapping Software for Nursing?
A 2008 nursing program study, published in Nurse Educator, reported a 12% increase in test scores among nursing students who used concept mapping as a part of their curriculum. Since then, Purdue University and nursing schools worldwide have adopted concept mapping software for nursing programs.
MindView is a leader in concept mapping software and is used to instill a range of nursing practices including assessing patient needs and patient diagnosis.
Concept mapping helps nurses organize thoughts and methods
Improve memory and comprehension with concept mapping software
Concept mapping software for nursing enhances decision making
Use concept mapping software to Develop reports
Concept Mapping Software for Nursing Assists in:
Use Concept Mapping Software for Nursing to Create:

Assessing Patient Needs
Finding Relationships Between Symptoms
Revealing Diagnosis
Creating Patient Reports with MS Office

Care Plans
SBAR Analysis
Patient Diagnosis
Study Aids
Meeting Agendas
PowerPoint Presentations
Concept Mapping Helps Nurses Organize Thoughts & Methods
A growing trend in the healthcare industry is the use of concept mapping software for nursing. By creating concept maps in software programs like MindView, nurses present a clear understanding of various topics from assessing patient needs, to isolating the steps of diagnosis.
Adapting methods such as SBAR and SOAP into a concept map, helps nurses to better organize their thoughts and actions. In turn, concept mapping for nursing results in improved patient care and greater efficiency in how that care is delivered by developing a patient care plan in a concept map.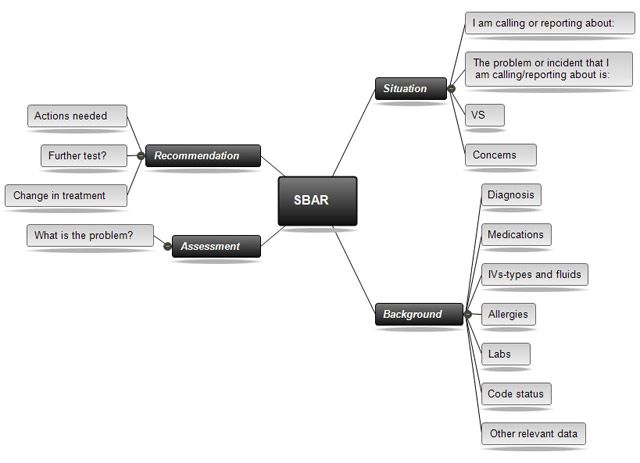 Download Free Concept Mapping Templates Here!
Improve Memory and Comprehension with Concept Mapping Software
The process of creating a concept map requires and encourages critical thinking, and traditionally has been done with pen and paper. Today concept mapping software such as MindView has streamlined this process, and when used in a nursing environment, proves to be a valuable educational and organizational tool.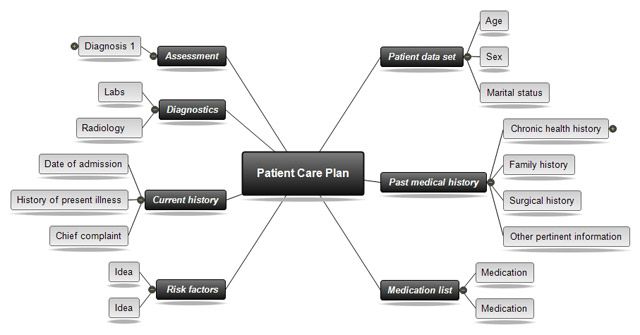 Concept Mapping Software for Nursing Enhances Decision Making
Concept mapping for nursing ensures insightful decision making. With concept mapping software, users can elaborate on a patient's status by inserting hyperlinks to websites, taking detailed notes on a symptom, etc. Additionally, you can attach relevant .pdf and Excel files, Word documents and more to each topic.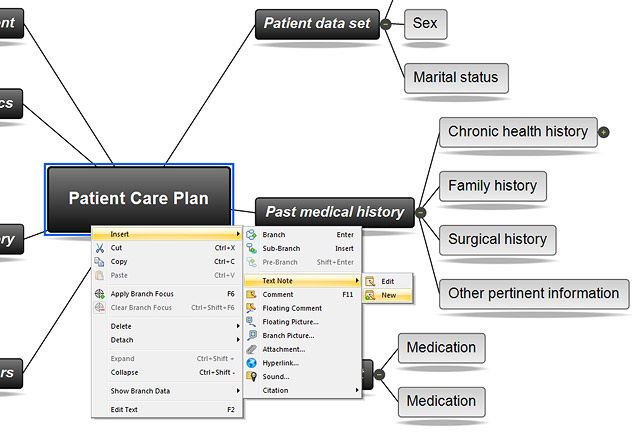 Use Concept Mapping Software to Develop Reports
With its seamless integration to MS Office, and easy-to-use professional templates, concept mapping software like MindView helps nurses distribute their concept map into various reports. Simply export a concept map to Microsoft Word to create a patient care plan or SBAR analysis.
Users even have the option to convert their concept map to a PowerPoint presentation. MindView sets up your presentations automatically, so with a simple click of your mouse, you're ready to go!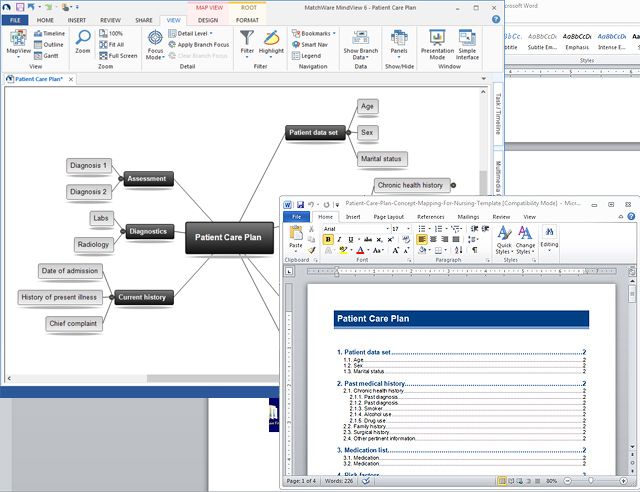 Concept Mapping Software for Nursing with Export to MS Office
Why MindView is the best Concept Mapping Software for Nursing
Multiple Design Views and Map Styles
Over 100 Free Professionally Designed Templates
Seamless Integration with MS Office
File Attachments and Interactivity