DSA Training
---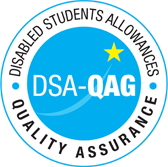 Disabled Student's Allowances Quality Assurance Group
MatchWare works closely with approved DSA suppliers providing direct access for educators, students and institutions to purchase recommended software. For any inquiries with regards to DSA supply please call 0207 940 9700 or e-mail david.kidd@matchware.com / dsa@matchware.com.
A list of all suppliers and centers can be found here:
DSA Suppliers
---

Barry Bennett, LTD.
Working primarily with Occupational Health and Health & Safety professionals, Barry Bennett provides a wide range of products and services for all types of special needs and disabilities including physical issues, hidden disabilities such as dyslexia, hearing and visual impairments.