What is Knowledge Management
Knowledge Management is the process of making explicit and tacit knowledge readily available to the right employees within an organization. The processes involved in creating an effective knowledge management model have been streamlined by the use of software programs like MatchWare MindView.
Use Mind Mapping to Streamline Knowledge Management
Benefits of Knowledge Management Software
Knowledge Management and Microsoft Office
Enhance Employee Training with Knowledge Management
Benefits of the Software:
Brainstorm information in a mind map
Select from ready-to-use templates or create your own
Attach notes, PDF files, images and hyperlinks
"One click" export to MS Office
Collaborate and share information through a Shared Workspace
Use Knowledge Management  Software to:
Create Community of Practice (CoP)
Improve Knowledge Mapping
Simplify Data, Content and Information Management
Mind mapping is the perfect concept for knowledge management because you can display large amounts of explicit information in a simple to follow diagram. This allows employees to conceptualize the policies, procedures and business units within an organization.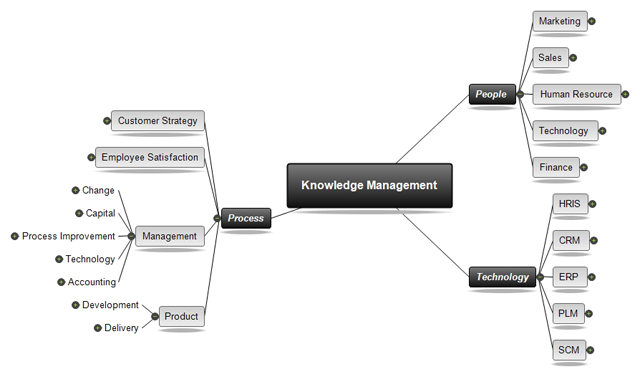 Benefits of Knowledge Management Software
The Community of Practice (CoP) is the key component to knowledge management, as it represents the groups that contribute and benefits from knowledge management across an organization.
Developing a CoP with MindView is a simple process, and that data can easily be made available to other employees through the Shared Workspace. This ensures that employees can access information when they need it.
Using software like MindView helps to enhance the management of knowledge by showing a great deal of information in a structured, organized mind map. Users elaborate on the topics or branches by inserting notes, hyperlinks or any other type of file, to easily access information from one centrally located file.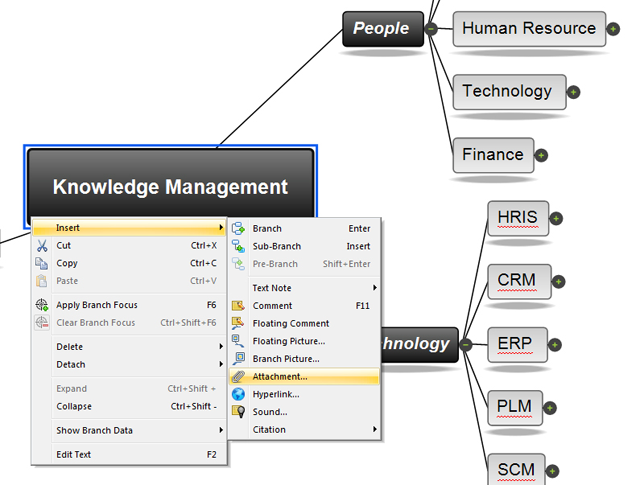 Download Knowledge Management Software now!
Microsoft Office Integration
The variety of formats that knowledge management information should be made available, forces companies to look for ways to streamline the creation process. Software like MindView has full integration with MS Word, MS PowerPoint, MS Excel and other MS Office applications.
One-click exports, professional templates, and reference / citation capability allow MindView to convert your Knowledge Management training documents in the most popular available formats.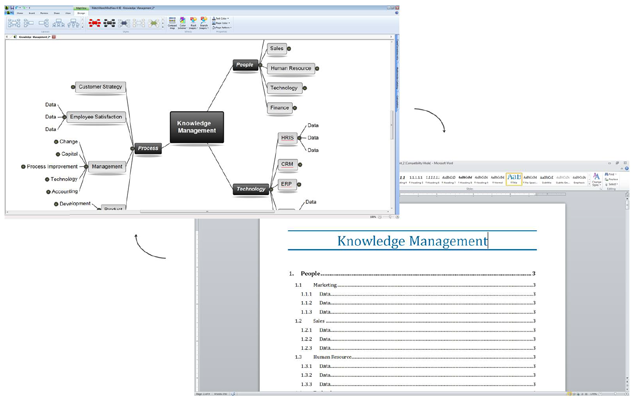 Enhance Employee Training
Enhancing knowledge management through employee training can be as simple as creating more engaging learning modules. Software like MindView, allows trainers to build interactive training modules as Mind Maps, and convert them to MS Word for training guides. Also, convert to MS PowerPoint for presentations, as HTML for websites and archives. In addition, use MindView's Presentation Mode to instruct directly from the Mind Map.

The branch attachment feature lets trainers attach any type of file to the branches of the Mind Map, giving employees direct access to supporting training materials.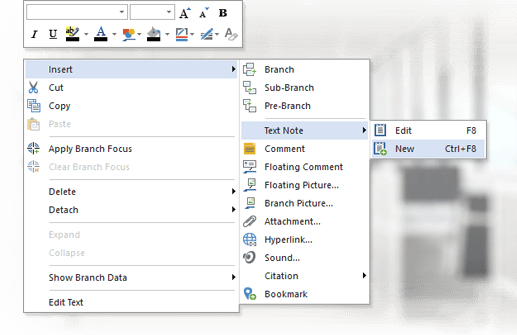 All employees, new or existing will benefit by logging into a CoP or Shared Workspace. Also, the collection of knowledge overtime helps build the effectiveness of the CoP. Accessing the shared workspace allows for a more effective employee experience, reducing time and costs involved in repetitive training or the creation of redundant information.
Why MindView is the Best Software
Multiple Design Views and Map Styles
Over 100 Free Professionally Designed Templates
Seamless Integration with MS Office
File Attachments and Interactivity