Why MindView?
MindView six sigma software is an effective tool for brainstorming, developing and structuring processes visually. Six Sigma is a visual methodology, and is perfectly suited for a mind mapping tool like MindView. The alternative to MindView would be to use white boarding, sticky notes, flip charts or an electronic drawing tool such as Visio.
These methods are not only time consuming, but they all require the re-entering of data to proceed to the next step. MindView provides six interchangeable views enabling you to brainstorm in a Mind map, convert to a WBS Structure and even transfer information directly to the built-in Gantt chart if needed.
MindView and Six Sigma
DMAIC and DMADV can be created and defined using one of the 3 map views, allowing for better collaboration, documentation and even the transfer of data directly to MS Word or PowerPoint for a presentation scenario.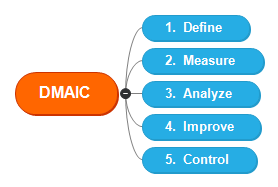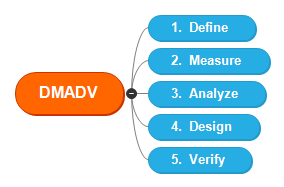 SIPOC can be handled in the same manner, providing a more efficient way to capture the important data relevant to the customer's needs.

Benefits of MindView and Six Sigma Software
MindView is fully integrated with the Microsoft office suite; which allows the visualization and transfer of data to the most popular Microsoft office programs such as MS Word, PowerPoint, Excel and even Microsoft Project. The built in Gantt chart and Timeline views assist in presenting action plans developed through the Six Sigma processes.
Easily visualize levels of detail
Collaboration with remote team members
Gain efficiencies in outlining procedures
No need to handwrite everything during the exercise
Easily re-arrange items rather than erase and re-draw them
Immediate output to templates or for presentation
Less time is spent organizing the information which optimizes time spent on the real work