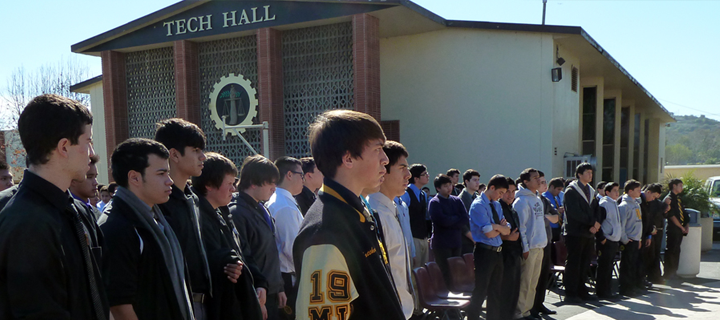 November 4th, 2020
David Tugler
IT Resources Advisor at the Institute Don Bosco de Wittenheim (France)
---
Profile of your education institution (training provided, number of students)
We have 530 students split into 2 colleges.
First of all, a technology college with two 10th Grade classes (Year 11 in the UK) for general and technical education, as well as a Health and Social Sciences Technology stream.
Then we have a vocational college with:
Business streams, administrative and customer relationship management
Vocational certificates (ATMFC, ECMS, APR)
Academic and professional integration classes (SEGPA, ULIS, MIJEC)
What is your role in the college?
I'm the Information Technology and Communication Manager for Education. My job is to advise the teaching staff about how to use digital resources.
Why did your college choose MindView as digital resource?
The teachers and the head of the Academic Integration group (ULIS) were very much in favor of it. Our director had been using mind mapping and project management tools for many years. Mind mapping is also mentioned in the programs of several of our streams.
Did MindView allow you to solve specific problems within the college?
The digital transition brought about by the "Lycées 4.0" project was a big challenge for our teaching staff. MindView has been our primary pathway into the "Lycées 4.0" project, ahead of all other digital resources.
How did users take ownership of MindView as a digital resource?
MindView has been adopted very easily, particularly for mind map creation. For more advanced features, we have organized training sessions. I was keen for the teachers to master the export to MS Office. We also trained them in the use of the timeline and the Gantt chart for project planning.
What do you use the software mainly for?
We use it in many different ways: in the classroom where students work in pairs or in small groups using the collaborative features of the online application, and in coaching sessions to help students who are struggling… And as far as the management team goes, we use it to handle college-wide projects.
From an educational viewpoint, what do users value most in MindView?
The fact that it is so versatile. First of all, the tool can be used at different stages of the teaching cycle: introduction to the course, synthesis, review. The tool also won recognition for its ease of use. Its different versions (online for instance) allow all users to take advantage of it, novices as well as seasoned users.
---