We have been working diligently to provide customers with the best meeting experience possible. We are proud to say that their experience is about to get even better!Here is a list of some of the powerful new features that users can expect in MeetingBooster 3.1:
Meeting Improvements
It is now possible to add tags called Meeting Attributes to a meeting. For instance, if you wanted to include a "Confidentiality" field for your meetings, you would use a Meeting Attribute.

Meeting attributes are also searchable.

A meeting attribute can be used to:
Add additional information to meetings
Categorize a meeting – You can add sequential numbering to meetings and define composite attributes for meetings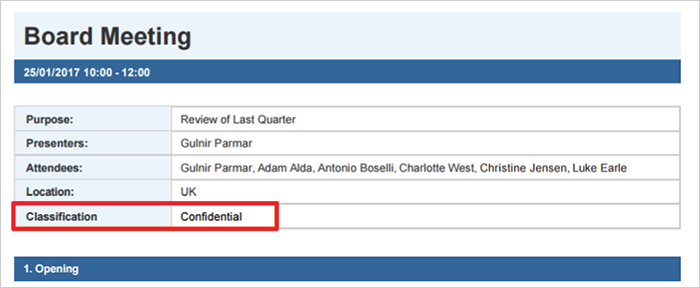 Task Permission Improvements
Meetings lead to tasks, and
tasks
lead to results, and managing task permissions with MeetingBooster just got better! You can now choose to enable/disable Task Permissions. For instance, if you wanted to stop the Due Date from being changed by an Owner of a task you would enable Task Permissions. Task Permissions can be applied in the following ways:
Admin User can Set Permissions for Task Owner: All task permissions can be customized by an Admin user to specify what Task Owners can change on tasks.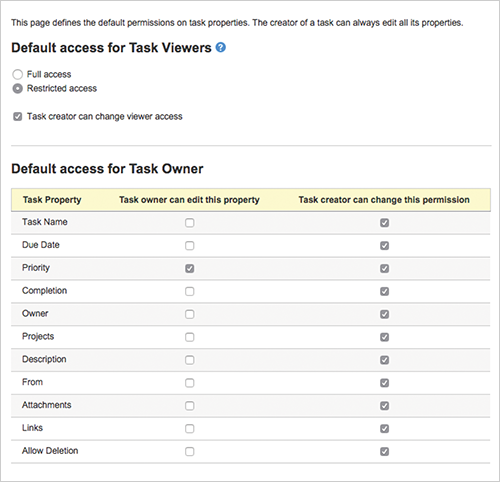 Task Creator can Specify which Permissions can be changed by Task Owner: The Task Creator can define what properties can be changed by the Task Owner for each task. This option can also be disabled by an Admin user.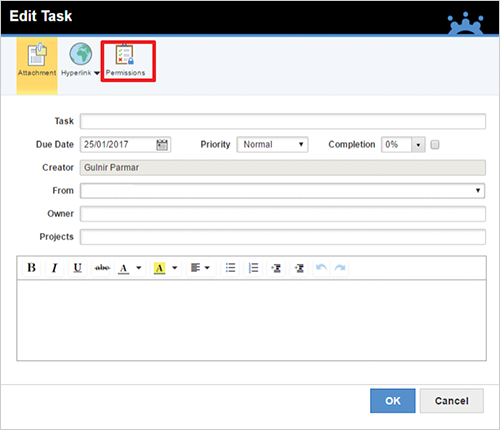 Project Permissions: Projects are now only visible to members by default. This means that any user who is not part of the project will not be able to see it.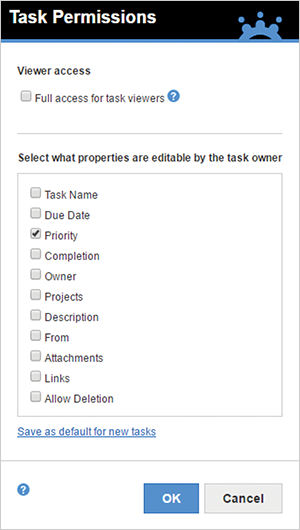 Performance Enhancements
Performance optimization within
MeetingBooster
means it is even faster than before! General performance enhancements as well as improvements to the task list and meetings have been made to the MeetingBooster system so you will see a noticeable difference over previous versions.
General Improvements & Bug Fixes
A number of issues have been fixed in MeetingBooster 3.1. Please see below for further details:
A scroll bar is now included in the distribution window to send the minutes to a long list of attendees
Email Reminders – if you untick all of the days of the week in the Email Settings section you no longer encounter an Ajax Error
If the owner of a meeting task is not invited to the meeting, and the owner tries to save an edit of the task's details, it will not cause an Ajax error
Attachments added to notes during a live meeting are now visible without a manual page refresh for the note taker.
Better UI shown when the agenda is hidden and an attendee selects the Agenda tab All project tasks are shown when filtering tasks on projects
Consistent behaviour shown when adding attachments to a task with multiple owners
Email Reminders: "Meetings scheduled for next week" and "Meetings with missing agenda" now use the local date for meetings
Loading of Delete Past Meetings page performance improvement
When a hyperlink or an attachment is deleted from a task the hyperlink and attachment buttons stay active
Leaving a meeting with no attendees and joining it again doesn't cause an error
Opening a project with no tasks no longer gives an Ajax error
Task handling in Safari improved
Improved notification when losing internet connection during a running meeting