MatchWare is proud to announce the release of the highly improved
MeetingBooster 4
, which is focused on making the meeting process even more efficient. It comes with a new Agenda Editor, more agenda/minutes styles and the ability to roll unfinished topics on to the next agenda. MeetingBooster 4 brings you powerful features such as an enhanced new Outlook plugin, API for integration with external systems, customized access to topics within minutes etc. With MeetingBooster 4 you will save more time on your meetings than ever before!
New Agenda Editor
With the brand new agenda editor, you can create agendas faster and more intuitively. The agenda editor come with an improved Ribbon system, shortcuts, undo/redo options and other improved editing features.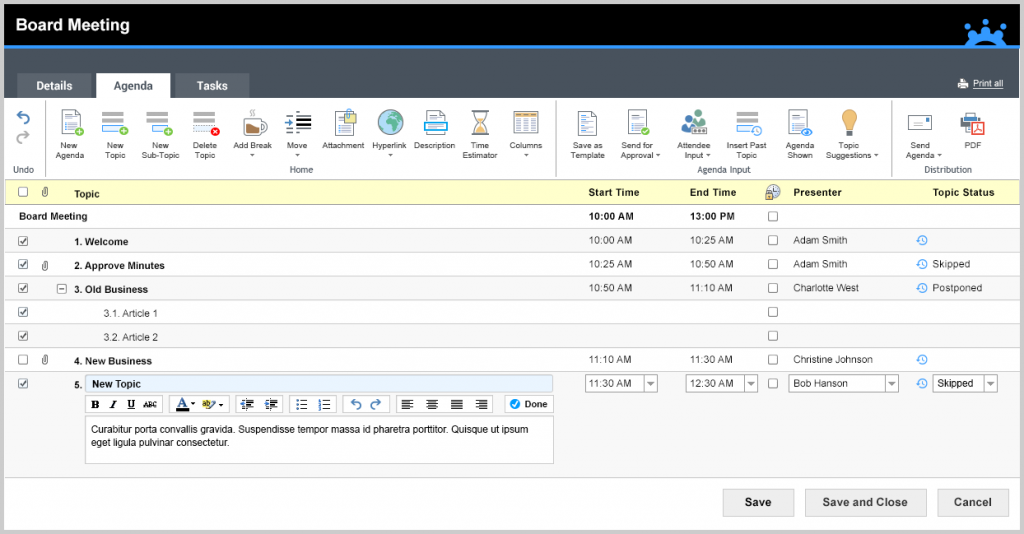 Agenda and Minutes Styles
With MeetingBooster 4 there are now 8 different agenda/minutes styles to choose from. MeetingBooster 4 allows you to customize your documents with the exact information needed and to include header and footer information. MeetingBooster 4 enables your organization to have several custom styles to select from, which you can order from MatchWare.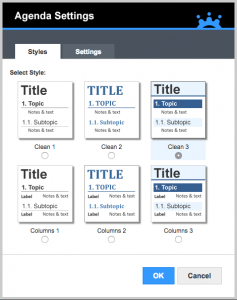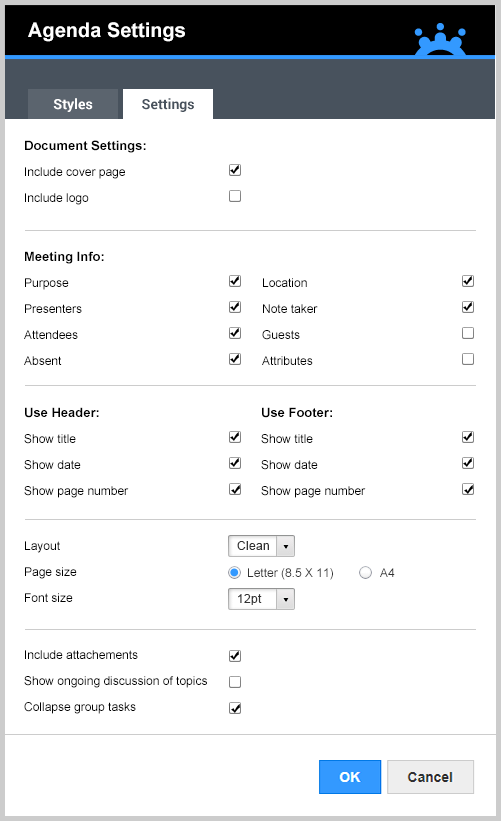 Permission on Topics in the Agenda/Minutes
Many clients have requested to be able to control which agenda and minutes topics particular attendees should be able to see. This is done with the new Viewing Access dialog shown here to the right. Organizers can use the Viewing Access dialog in the agenda editor to limit the rights to view agenda and minutes topics for particular users. This means that when an attendee receives the minutes from the meeting they will be filtered to include only the topics and topic notes the person is allowed to see. The same applies when the attendee logs into MeetingBooster to review the minutes.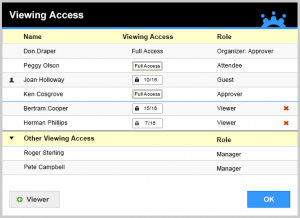 New Outlook Plugin
Integration with Outlook
is paramount for many organizations using MeetingBooster. Most companies use Exchange Server, and therefore we have built a brand new plugin that synchronizes with the Exchange Server using the Exchange ICS API (Incremental Change Synchronization). This should help organizations running Outlook in the "Online Mode" option and improve the plugin.
Improved Search in Minutes
The Search feature in Past Meetings is very important for time saving. Therefore, the Search function has been enhanced with search filters so that you can decide if you want to search for an exact match or any of the words listed. The layout of the search results has been updated so that the results are easier to overview.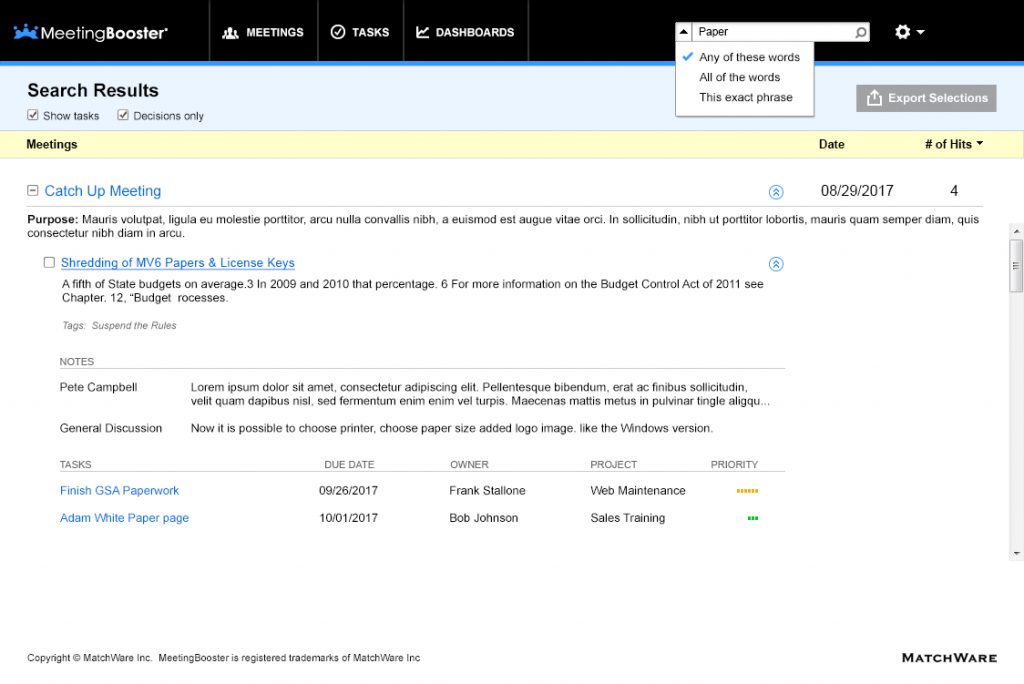 Rolling Topics
We are really excited about this new time saving feature! With Rolling Topics, you will be able to include an unfinished topic from a past meeting into a new meeting's
agenda
. You will also be able to carry over the notes for the topic and review such notes when making the agenda or when running the meeting.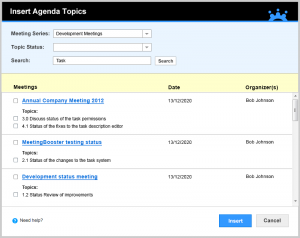 When you have finished the discussion about the topic in the next meeting, you have the option to include the notes from the previous meeting within the minutes. The rolling topics will provide an efficient way to handle unfinished business while saving you time!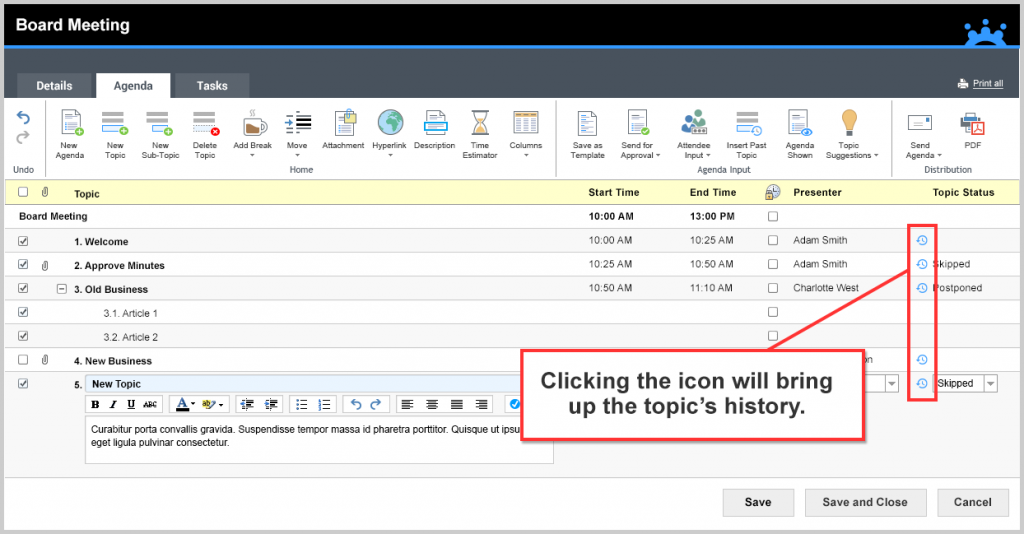 Topic Status in Meeting Series
Many of our customers need to be able to assign a status to their agenda topics in order to organize their workflow. For many clients, each topic is an individual case, for example in municipalities handling building permissions. The topic status would be an indicator of the exact stage within the approval process. Another example is the ability to insert a Topic Status like: "Decided", "Postponed" or "Declined". Consequently, when working with a Meeting Series you are now able to assign a Topic Status. You can then filter on the Topic Status to select topics to carry into the next meeting. For example, filtering on "Postponed" and selecting the "New Meeting" button, as illustrated below, will allow you to quickly setup the next meeting agenda, while carrying over the previous notes from that topic. The other benefit of the Topic Status is to follow which step of the process a topic has reached. The Topic Status feature is only available for Meeting Series.

A Topic Status can be created as "Free text" or categorized within "Dropdown" menus. You can also use the built-in "Predefined" Topic Status. Administrators can define Topic Status globally and the owner of a Meeting Series can define specific Topic Status for that Meeting Series.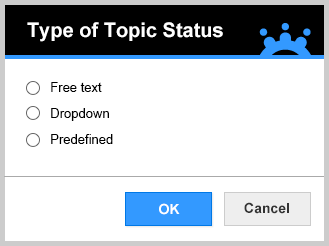 Many customers have also asked to be able to escalate a topic from a Meeting Series to another higher level Meeting Series, for instance in connection with a hierarchy of committees. Therefore, we have made it possible to invite a member to a Meeting Series and to allow them to have viewing access to all minutes and topics within the Meeting Series. If that person is also a member of another Meeting Series they can select a topic from the first Meeting Series and include it in the other Meeting Series, in order to escalate the topic. In the current version of MeetingBooster, members of a meeting series only have access to the meetings they participated in.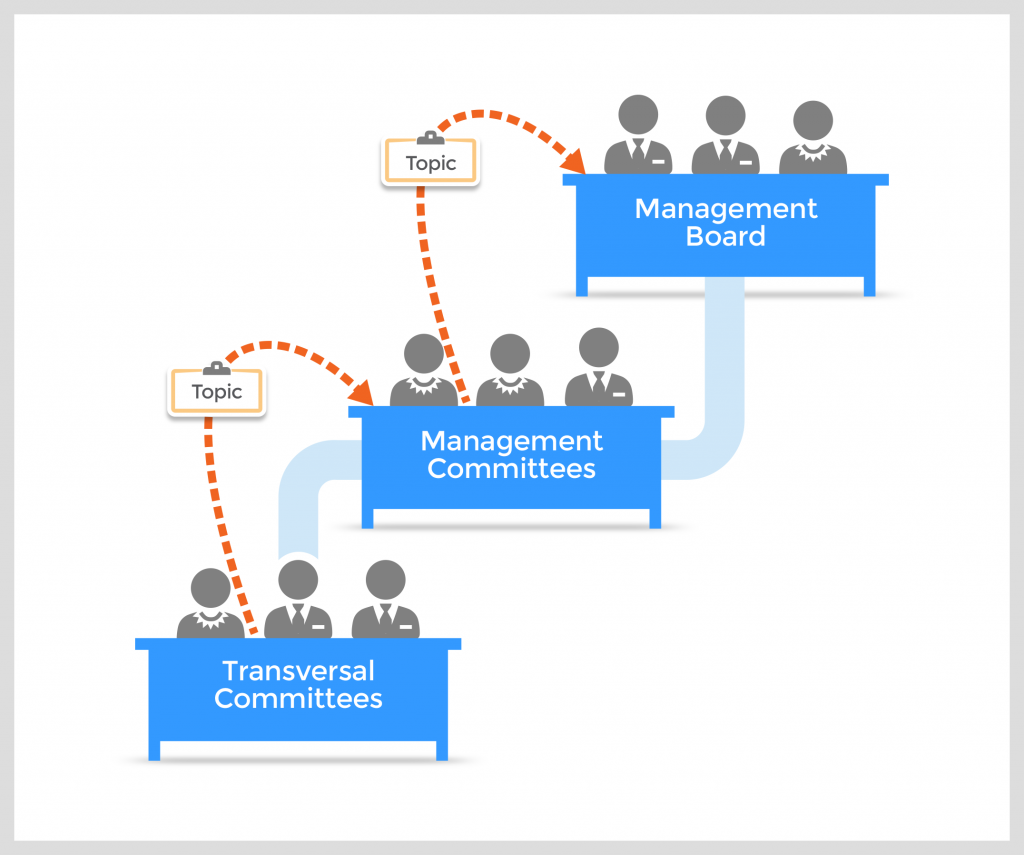 API
MeetingBooster
now includes an Application Programming Interface (API) which supports integration with external systems. The API allows you to do the following:
Task information – query task information and synchronize task information with other task systems.
Calendar information – synchronize MeetingBooster meeting information with other calendar tools.
Minutes – the API allows you to generate meeting minutes as PDF. This feature makes it possible to automate backing up meeting minutes and optionally making a bridge between MeetingBooster and third party Document Management Systems.
A C# package defining all the API objects is available, as well as a C# example showing how to save minutes in a specified external folder.
Decisions at Meetings
Conclusions now become Decisions. From MeetingBooster 4.0 you are able to mark your notes as Decisions, and on top of that you also have the ability to add multiple decisions per topic.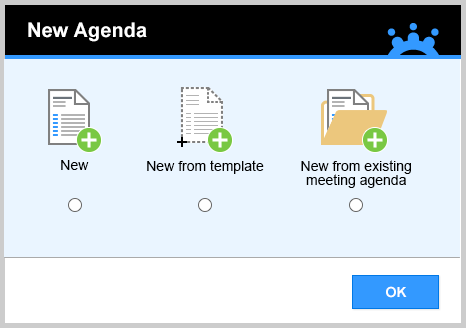 Agenda Templates in Several Languages
The predefined Agenda templates are now available in multiple languages and the selection of the templates has been improved.
General Improvements & Bug Fixes
Ability to change the attendance after meeting ends
Topic suggestions can be marked as private
Improved parking of topics to include notes