What is Knowledge Management Software?
Knowledge Management is a process used by many organizations to make explicit and tacit knowledge readily available to the right employees. The use of Knowledge Management Software like MindView simplifies this process, adding value and efficiency, increasing overall effectiveness.
Use Mind Mapping to Streamline Knowledge Management
Benefits of Knowledge Management Software
Knowledge Management and Microsoft Office
Enhance Employee Training with Knowledge Management
Benefits of the Software:
Brainstorm information in a mind map
Select from ready-to-use templates or create your own
Attach notes, PDF files, images and hyperlinks
"One click" export to MS Office
Collaborate and share information through a Shared Workspace
Use Knowledge Management  Software to:
Create Community of Practice (CoP)
Improve Knowledge Mapping
Simplify Data, Content and Information Management
Knowledge Management Software and Mind Mapping
Mind mapping is a great tool for knowledge management because it displays large amounts of explicit information in one organized view. This assists viewers in conceptualizing the structure of the organization's policies, procedures and business units in detail.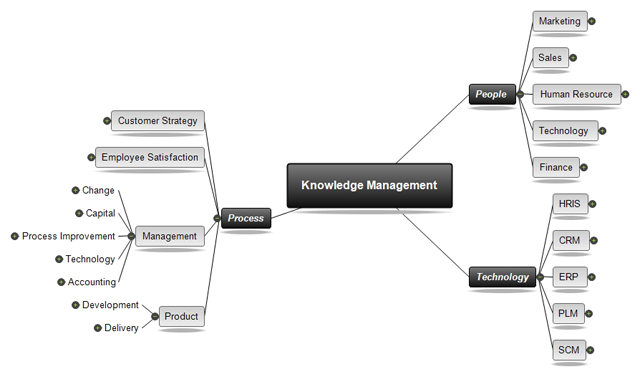 Why Use Knowledge Management Software
With MindView, users can develop a CoP and make it accessible to other employees via the Shared Workspace.
The Community of Practice (CoP) is a vital component to knowledge management and represents the group that contributes to and benefits from knowledge management across an organization. Within MindView's Shared Workspace, the community of practice can instantly share and obtain insight about current or developing information.
 Knowledge management software like MindView, presents a great deal of information in a structured, organized format known as a mind map. Users can elaborate on each topic in the mind map by inserting notes, hyperlinks or any other type of file. Ultimately, all of your knowledge can be centrally located in one easily accessible file.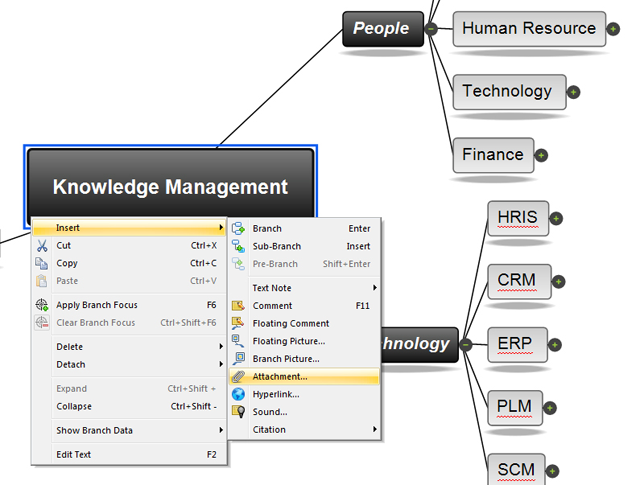 Download Knowledge Management Software now!
Using Knowledge Management Software with MS Office
Knowledge Management information should be made accessible in a variety of formats. If you are looking for a way to streamline the creation process, knowledge management software like MindView is fully integrated with MS Word, MS PowerPoint, MS Excel and other MS Office applications. With 1 click exports, professional templates and reference / citation capability, MindView can transform your Knowledge Management Training documents in the most popular formats available.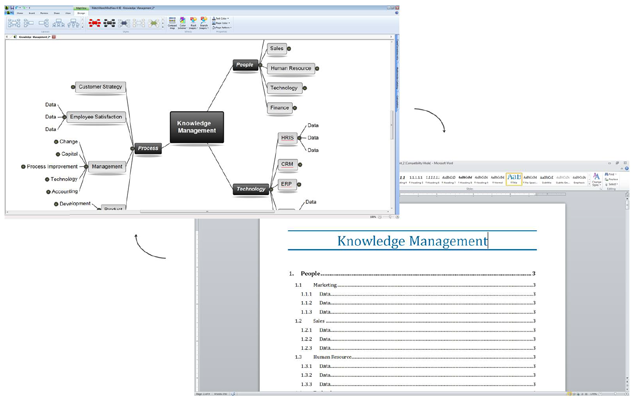 Improve Employee Training
MindView, powerful knowledge management software, has seamless integration with Microsoft Office. This allows trainers to create interactive training files as Mind Maps, and export the files to MS Word for training guides, to MS PowerPoint for presentations, as HTML for websites and archives or use MindView's Presentation Mode and instruct directly from the Mind Map.

MindView's branch attachment feature allows trainers to attach  any type of file to the branches of the Mind Map, such as Word Documents, PDF's, Website URL's, Videos and more; giving employees easy access to supporting training materials.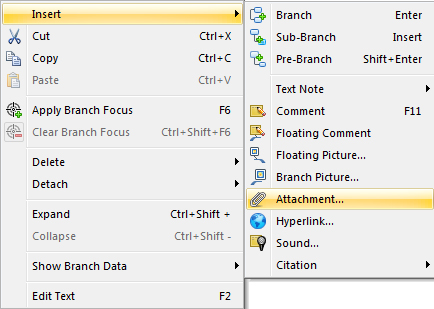 New hires and current employees benefit when they can log into a community of practice or Shared Workspace. By collecting knowledge overtime, employees have access to all of the information they need by simply accessing the mind map via a Shared Workspace.
This improves employee experience and reduces the time and costs that is required to train the employee.
Why MindView is the Best Software
Multiple Design Views and Map Styles
Over 100 Free Professionally Designed Templates
Seamless Integration with MS Office
File Attachments and Interactivity